Pirate Kings 4.1.2 Apk for Android
Online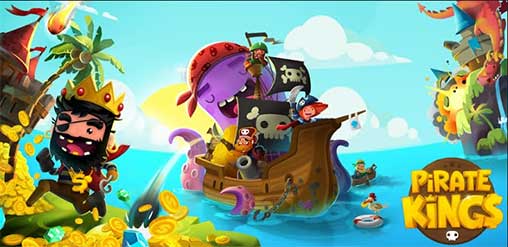 Join your Facebook friends & millions of other pirates from the 7 seas in the best pirates game: PIRATE KINGS! Build your land and make it the paradise island that a pirate of your quality deserves!
Millions of pirates & islanders play Pirate Kings every day – Spin away!
Sail to adventure!
Ship away to fun pirate adventures! Play multiplayer games at Pirate Kings and prove you are a true freebooter. Shoot cannonballs to attack rival pirate islands, protect yourself from other pirates' strikes and mine gold in this pirates adventure game.
Spin the wheel & win prize
There is only one thing a pirate loves more than the islands and seas: gold! Spin the pirates wheel and win free coins – a true pirate can never have enough cash! Even more, if you are truly lucky, shoot cannonballs and attack other pirates' islands and loot their forbidden treasures and cash. Yo ho ho and a bottle of rum!
Build & grow your islands
Once you've gathered enough cash and own a proper island, enjoy the building game experience in this pirate adventure or explore additional islands! Build castles, put up a statue, decorate, and grow your ship as you play this multiplayer game with friends or random people! Pirate, your island is not a game, it is your paradise, let it grow!
Join your mateys!
Your Facebook friends are waiting online to match your pirates' battle skills – come on board and join your fellow islanders! Spin the wheel and play a game with your Facebook friends or random players around the world, loot their treasure, attack and steal their gold or defend your treasure from their attacks. Pirates love to be competitive!
Additional Mighty Features:
★ Battle your friends – shoot cannonballs and attack, loot and steal gold, defend your island!
★ Spin the daily bonus every day & get FREE BONUS COINS
★ Revenge – Attack other pirates who have looted your precious treasure
★ Play with friends!
★ Use your gold to level up and build dozens of new islands
Become the Pirate King now! It's free-to-play, but you can purchase additional in-game items with real money. If you don't want to use this feature, please disable in-app purchases in your device's settings.
Any suggestions or new ideas? Experiencing any problems? We love our players! You can reach our support from inside the game!
Pirate, your islands and friends await!
Become a Facebook fan: http://bit.ly/Facebook_PK
Follow us on Instagram: http://bit.ly/PKInsta
WHAT'S NEW
Pirate log, version 4.0
* My Maties – Invite friends to be your maties and play Pirate Kings together!
* NEW lucrative bundles in the premium store.
* Need help finding the Cash King? Watch a video to increase your chances!
* Bug fixes
* Performance enhancements
Stay connected with Pirate Kings by joining our community on Facebook, Twitter, and Instagram!
Please use the in-game support feature to report any issues and give us feedback.
*Game is now compatible for OS 4.0.3 and up