Nimbuzz Messenger / Free Calls 4.6.0 Apk for Android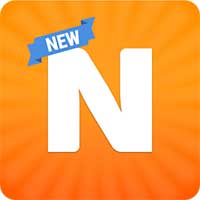 Free messages, Free Calls. Unlimited!
Nimbuzz Messenger lets you make cheap international voice calls, send unlimited chat messages, share files etc across popular messengers. Nimbuzz Messenger is available on Android, iOS, Windows Phone, Blackberry, Symbian, Java, Windows and Mac.
Nimbuzz Messenger is super-popular and our 200+ million registered users across platforms prove that.
Below is the list of Nimbuzz Messenger's amazing features that take your mobile IM experience to the next level:
• FREE HD VOICE CALLS – Cheap International HD quality voice calls for free
• FREE MESSAGING – Replace SMS with unlimited free chat.
• GROUP CHAT – Enjoy group conversations by sending text messages to your contacts in a single group.
• STICKERS – Express yourself better with super cool Sticker packs.
• CHATROOMS – Discover new friends in chat rooms
• CHEAP INTERNATIONAL CALLS (VOIP) – Buy Nimbuzz Out credits and make cheap international VOIP calls to mobile and landlines
• SIP VOIP ACCOUNTS – Connect to any SIP provider through Nimbuzz and enjoy extremely low cost VOIP calls
• FILE SHARING – Share photos, documents, music and videos with all your friends.
• CHAT BUDDIES – Use our popular chat buddies for Cricket, Astrology, Meet a Stranger, Jokes, Games.
• AND MORE: Custom chat wallpaper, N-world, Virtual Goods, Free Avatars, Games and more.
Your active feedback is greatly appreciated. For any questions, concerns, feedback or ideas, drop us an email at: [email protected]
Visit Nimbuzz communities at:
http://facebook.com/nimbuzz
Tweets by Nimbuzz
For more info please visit:
http://www.nimbuzz.com
http://blog.nimbuzz.com
WHAT'S NEW
– Introducing Video Calling
– Audio calling enhanced
– Chatroom Commands (Super Room, Owner, Moderator, etc)
– Chatroom (Easy Conversion of Public to PNV/Private/Members only chatroom)