Nebulous 1.8.0.2 Apk Action Online Game for Android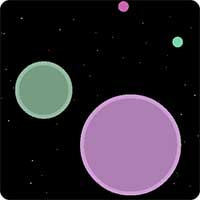 Grow your blobs by collecting dots placed throughout the game or gobbling up smaller players. Avoid bigger players attempting to do the same. Compete with other players to become the biggest blob.
Features:
☆ Find Groups, Play With Friends, and Join a Clan!
☆ Over 325 skins with unique ways to unlock them and more coming!
☆ Online Multiplayer (up to 27 players per game)
☆ Offline Single-player
☆ FFA, Timed FFA, FFA Classic, Teams, Timed Teams, Capture the Flag, Survival, Soccer and Domination Modes!
☆NEW: Mayhem Mode!
☆ XP, Achievements, and Stats!
☆ Clan System with Clan Wars!
☆ If you are feeling competitive try the Arenas!
☆ Space or Grid Theme
☆ Multiple Control Schemes
☆ Server Leader Boards
Controls:
☆ Touch the control pad to move
☆ Split Button – launches some of your mass in the direction you are moving
☆ Eject Button – ejects some of your mass in your current direction. Tip: Use this to move black holes!
Tips:
☆ Eject mass into a black hole to move it
☆ After some time passes your blobs will recombine
☆ Seek refuge from large players inside black holes if you are small
☆ Black holes will break up or shrink your blobs if you are large
☆ Split up when being chased for a small speed boost
Multiplayer Connection Tips:
☆ For multiplayer you need at least a 3G cellular connection or high quality Wi-Fi
☆ Select the nearest server
☆ Try several different internet connections (if available)
☆ Close applications in the background that might use the internet or slow down your device
New features and improvements coming soon.
WHAT'S NEW
1.8.0
– Clan Houses! When your clan saves up enough plasma the clan can purchase rooms for the house that only clan members can enter.
– Increased the number of personal and clan custom skins to 15!
– Major engine improvements for increased control responsiveness on all devices and increased framerate on slow devices
– New skins and emotes
– You can receive and accept invitations to other clans even when you are already in a clan
– Many bug fixes