Merge Friends – Fix the Shop MOD APK 1.16.0 (Gold) Android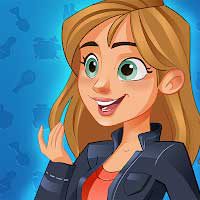 Online
Merge Friends is an addicting merge game, where players merge, trade, and help to rebuild an almost-forgotten community.
– REBUILD THE NEIGHBORHOOD
As the new owner of the town's General Store, it's your goal to provide the items to help people in the neighborhood and rebuild the town. Can you bring the community together?
– DISCOVER HUNDREDS OF ITEMS!
Rummage through old, dusty boxes left behind by your ancestors to merge items and fill orders – and uncover old family secrets along the way!
– NURTURE FRIENDSHIPS!
The Merge Friends' world is bursting with friendly characters to interact with and help. Each neighborhood inhabitant has their own story and by helping them out you'll discover all the intricacies and drama of their past. Just like all great friendships!
The Vault and VIP pass arrive in Town!
– Summer daily tasks are back!
– The Vault is here! Merge items to add gems to the Vault and open it to collect them!
– Become a VIP with the new VIP Pass! Get daily gifts, show off to other players, and save more items in your backpack with these amazing perks!
– The backpack has a new look!
– Bug fixes and improvements