King of Thieves 2.32.1 ZeptoLab Apk for Android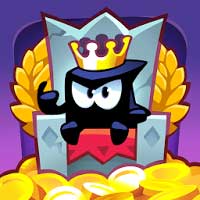 Online Game
Dodge traps and steal gold from other players in this unique mix of platformer and PVP multiplayer game. Introducing King of Thieves, the new game from the makers of award-winning Cut the Rope, loved by millions of players worldwide!
STEAL SHINY THINGS. Collect gold and gems from other players to become the wealthiest thief in the world!
DEFEND YOUR LOOT. Design your dungeons and watch other thieves getting into your traps. Muhaha!
CLAIM THE THRONE. Compete with other players worldwide, leaving your rivals on the bottom of leaderboards.
GET CRAFTY. Create new outfits for your character. The most nifty thieves should look really cool!
TRAVEL AND EXPLORE. Test your agility through 80 single-mode levels or dive into the underground world of user generated content.
CREATE AND JOIN GUILDS. Find reliable allies to stand against hostile guilds of thieves!
WHAT'S NEW:
Come join us at the King of Thieves' Birthday Party this February!
B-DAY PARTY
We've prepared lots of special activities and presents to celebrate four amazing years since the release of the game! There'll be a special costume, discounts, offers and a Gold Fever event!
GOLD FEVER EVENT
Get Wizard Wands and activate the Gold Fever when you need it. Jump between dungeons and steal all the gems!
GIFTS CENTER
At the community's request, you can now buy and send in-game items to your friends!