King of Thieves 2.33 ZeptoLab Apk for Android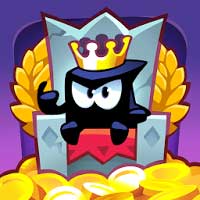 Online Game
Dodge traps and steal gold from other players in this unique mix of platformer and PVP multiplayer game. Introducing King of Thieves, the new game from the makers of award-winning Cut the Rope, loved by millions of players worldwide!
STEAL SHINY THINGS. Collect gold and gems from other players to become the wealthiest thief in the world!
DEFEND YOUR LOOT. Design your dungeons and watch other thieves getting into your traps. Muhaha!
CLAIM THE THRONE. Compete with other players worldwide, leaving your rivals on the bottom of leaderboards.
GET CRAFTY. Create new outfits for your character. The most nifty thieves should look really cool!
TRAVEL AND EXPLORE. Test your agility through 80 single-mode levels or dive into the underground world of user generated content.
CREATE AND JOIN GUILDS. Find reliable allies to stand against hostile guilds of thieves!
WHAT'S NEW:
Two new unique costumes, Shady Joe's Bazaar, and bug fixes – that's what this update brings to the game!
VAULT HEIST WITH NEW REWARDS
A well-known event is back with new rewards! Win 2 new unique costumes which will stay with you forever!
BAZAAR
Seems that Shady Joe decided to come back for long. And now he's ready to share stuff he has. Check the Bazaar to learn more.
Good luck in dungeons!