Couchgram, For Your Calls Only 3.3.1 Apk Android
Couchgram, For Your Calls Only 3.3.1
Apk Android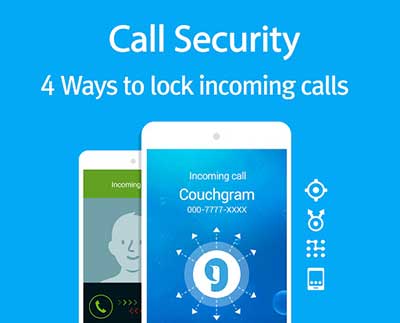 Why Couchgram?
– Embrarrassed of your useless pattern lock for your incoming call? Please use Couchgram to lock your incoming call!
– Embrarrassed of your phone screen lighting in places like the movies? Use Couchgram to quickly control your screen brightness and be able to use your phone, regardless your location!
– Frustrated you missed important calls because you couldn't take them? Use Couchgram to forward your incoming call to chatting so you don't miss any important messages..
– Bored of the same incoming call background image? Use Couchgram to spice them up!
– How can all of this be possible? By using Couchgram!
▶Call Privacy Mode
– Protect the privacy of your calls by being the only one to unlock and receive them.
– Place a call lock on either all of your contacts or just specific ones.
▶Forward Incoming Calls to our Chatting Service
– Can't answer the phone at the moment? Then, forward the call to chatting mode!
– One simple tap on the 'Forwarding to chatting service' button on an incoming call and you're done!
– The caller doesn't have Couchgram? No worries, your friend will receive your message as a SMS.
– What about just sending a text? No! Couchgram forwards your call to our chatting service in one simple tap, and any messages sent from our chatting service are free.
▶Call Memo
Have you ever needed to take a memo during or after a phone call?
Make a memo at your call and check later!
▶Change or hide caller's name and number
Be able to display your friend's nickname without changing his or her contacts name.
You can also choose to not display either the caller's name or phone number for incoming calls!
▶Incoming Call Wallpapers
– Express your preferences by selecting unique incoming call wallpapers.
– Try selecting photos that capture your favorite moments.
▶Status Bar Mode
You can simply turn on and off each feature in our status bar when you slide it down from the top of your phone.
▶Spam Report
Are spam calls bothering you?
Report a spam in your call ending screen. Couchgram will soon provide spam alert and spam call blocking service.
▶Night Mode
– Be able to use your smartphone even in dark places like the movies by setting the screen's brightness to a darker screen than the usual phone configuration allows.
– Crowded places? Protect what's on your phone's screen by lowering the brightness.
– Be able to spend time with the people you love without distractions. Use Theatre Mode to control your phone's brightness!
▶Connect with Couchgram on Facebook
– Like us on Facebook for all the latest news and updates!
– Where? At www.facebook.com/couchgram
– How? Voice your opinions and feedback!
WHAT'S NEW
✔ Stability improved
✔ Performance Optimization