360 Security – Antivirus Boost 5.2.7.4185 Apk for Android
Current Version: 5.2.7.4185

File size: 24 MB

Memorize:

www.ReXdl.com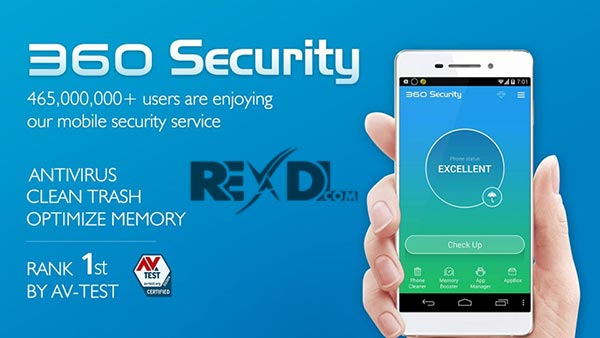 Free Security Protection and Speed Booster for Android Phone
Trusted by 200 million users, 360 Security is the only all-in-one speed booster and antivirus app that optimizes your background apps, memory space, junk(cache) files and battery power, while keeping your device safe from virus and trojan.
Download this optimization and security app that's intuitively designed to protect your mobile lifestyle in just ONE tap.
Why 360 Security is a MUST-HAVE app?
It's the Strongest Booster-Is your phone running crazily slow? Let 360 Security's renowned boost engine take care of it!
It's the Most Effective Cleaner-Lacking space for new photos or new apps ? Just clean application caches and junk files with one click!
It's a Smart Battery Saver- Battery draining fast? Adjust your draining settings and disable unnecessary apps that drain your battery!
It's the Best Security App -Worried about viruses or phishing? Don't be! 360 Security's top antivirus solution makes sure your device is free from malware, vulnerabilities, adware and Trojans!
——————————————
Highlights of 360 Security – Antivirus:
Security & Antivirus
Scan installed apps, memory card content, and new apps automatically. 360 Security's latest protection technologies against viruses, adware, malware, trojan and more.

Junk File Cleaner
Delete useless Android system files, large files and app caches for an instant speed boost to your Android performance, while freeing up storage space with a single tap.

Memory Boost
Free up memory (RAM) and boost your mobile phone. Our One Tap Clean feature reclaims memory allowing you to open apps without delay!

Power Saver
Intelligently saves your device's power by knowing when to automatically trigger 360 Security's Clean feature, which saves you all the battery power you need, when you need it the most.

Anti-theft
An all-in-one anti-theft solution, should you lose your beloved phone. A suite of features including, Erase, Locate, Alarm and Lock can assist you with retrieving a lost device and protecting personal data.You can trigger remote features via our web interface at http://findphone.360safe.com

Privacy
Privacy & App Lock – Prevent data on the device such as apps, SMS, photo albums, and other important and private documents from falling into the wrong hands.

Real time protection
Scan installed apps and local APK files in real time and also monitor each installation process.
Protect your mobile device with 360 Security, a top of the line free security app designed to protect your Android phone against the latest virus, malware, system vulnerabilities, and privacy risks. The app also cleans application caches and junk files from your system, Increases the available storage space on SD card and boosts your Android phone for free.
——————————————
360 Security – Antivirus is available in following languages: English, Português(Brasil), Português(Portugal), Español(España), Español(Latinoamérica), Pусский, हिन्दी, ไทย, Bahasa Indonesia, Türkçe, Tiếng Việt, French, German, 中文(简体)and 中文(繁體).
► Read in app permissions and usage here: ► http://goo.gl/3a2mCd
We would like to hear from you:
Like us on Facebook:
https://www.facebook.com/360safecenter
Join us on Google Plus Community:
https://plus.google.com/communities/109670671299307805270
Help fight against deceptive ads
360 Security – Antivirus is committed to fighting against misleading downloads. You can find our full official policy on this matter here:http://www.360safe.com/security-promotion-policy.html
If you come across one of these ads, you can help us to take them down. Please email us [email protected]. Please give us as much information as possible, it will help us remove these ads.
WHAT'S NEW:
1.Supporting no ads in app.
2.Super lock screen ,to provide phone optimization tips and a variety of handy tools (super easy to use).
3.Space clean-up optimization, to solve the problem of lack of space and clean up more thoroughly.
4.Bug fixed and product performanced optimization.
5.More new features and optimization, welcome to experience.