Special Forces Group 2 1.3 Apk Mod Money Android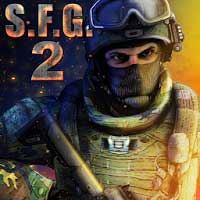 Special Forces Group

2

1.3 Apk Mod

Money

Android
Multiplayer Online and Wifi router
Special Forces Group 2 is available for free on Google big market and have decided to attend the first-person shooter game lovers in real time and in three dimensions (3D) introduce! In this game you can play in different modes to get busy in single-player mode challenging missions leave behind, around her with friends in multiplayer mode via Wi-Fi connection is one of the best Android shooter games experience or from among five modes Classic, Resurrection, Capture the Flag, Zombie Bomb to customize and select one and keep yourself entertained for hours! The goal of this game so that it was more specific to multiplayer mode with friends with a WiFi connection and at no cost, you can connect the phone and a multi-(formation of a against each other) at and one of the best games to play in the shooter genre that is very similar to the famous game counter-do experience!
3D First Person Shooter in real-time.
-Singleplayer(with bots)
-Multiplayer Online and Wifi router.
-5 game mode (Classic,Resurrection,Capture the Flag,Zombie Mode,BombMode)
-Confrontation Special Forces teams and teams of terrorists
-5 Characters per team
-18 Maps
-7 Pistols
-3 Shotgun
-4 Submachine guns
-12 Rifles
-5 Sniper-rifles
-3 MachineGun
-1 Grenade
-3 Bulletproof vest
-7 Languages(English,Русский,Espanol,Deutsch,Francais,日本人,中国)
WHAT'S NEW
1.3
-Smoke grenade
-The new interface in the store
-Added the sub-machine gun "Bizon"
-Zombie skins
-New rules in Zombie mode
-Team score(in ranking of players)
-Bots from the back did not notice the enemy
-Bots change weapons if out of ammo
1.2
-Added map "West"
-Add FlashBang
-fixbug
1.1
-Added map "BigDesert"
-Now the fire button is the default. Fire a double-tap is set in the settings.