Freedom Apk 1.8.3c latest for Android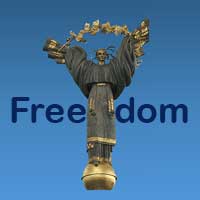 Freedom Apk or app for android and iOS is one of the best tools to get free in app purchases in android and iOS devices. With freedom apk, You can get free in app purchases of offline games such as Temple run, candy crush saga, clash of clans etc.
FREEDOM APK FOR ANDROID
REQUIREMENTS:
Rooted Android 2.3+
NOTE: If your device is not rooted, please root it first with kingroot. We recommend kingroot because it doesn't require PC to root and also kingroot support maximum number of devices.
How To Use freedom Apk in Any part of world including USA and UK?
Download freedom from Rexdl.com
Install It and open ONCE. If it says "freedom is not available in your country" then change your timezone to GMT+4:00 (Moscow) or GMT +5:45 (Kathmandu) from your device's settings.
If it doesn't say anything, you don't have to change timezone.
Open freedom and wait for 2 minutes until it finishes displaying "please wait" message. Click on the game or the App you want to hack and wait until it finishes it's work. At this time freedom shows "Reloading AK47" or any other message. It doesn't mean anything. Just stay calm.

Now the game or the app opens itself and you are free to buy coins or any other items IF THAT APP OR GAME IS SUPPORTED.
During this process, Google's billing window will appear as it used to do before hacking the app or game, but this time it doesn't ask you to enter your credit or debit card details. Instead it shows "Freecard xxx-5074".
IMPORTANT NOTICE:
After hacking in app purchases with freedom, or just only trying to hack, if you open Google play it may say "No internet connection" even if you have proper internet connection. It can be fixed easily. Click Here to read How to fix Google play no Internet Connection error.
NOTE: Many games are not supported such as clash of clans, minecraft pocket edition, Clash of kings, subway surfers, criminal case, teenpatti, etc because in those app purchases are handled by server (Server sided). If you want to hack such games please consider using Xmodgames. Right Now xmodgames is only tool that lets you mod these games.