Apocalypse Max 0.55 Apk Mod HP Money Data Android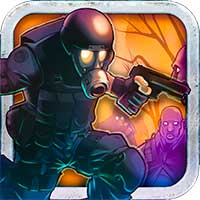 Current Version: 0.55

File size: 24 MB + 72 MB

Memorize:

www.ReXdl.com
Offline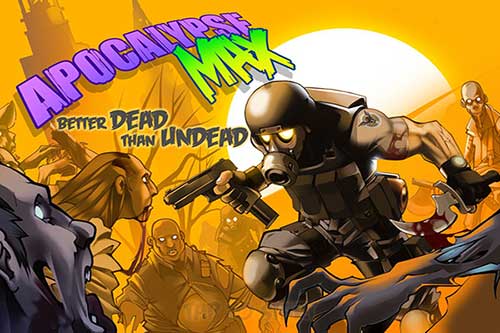 Zombies serve a function. In a zombie game, this function may be as a horrific element that is meant to overwhelm us in numbers. Or it could be to be so much fodder for making the player feel like they are the true master of surviving the zombie apocalypse. Apocalypse Max: Better Dead Than Undead uses the latter to great effect, mixing zombie grotesquery with the side-scrolling action of a Metal Slug or Contra.
In order to effectively make one feel empowered, controls must be fairly simple. Max can move left, right, or jump with a push of the appropriate button. Similarly, hold or tap the gun button to shoot the auto-aimed attack. There are also grenades if more blowy-uppy goodness is preferred. Then there's a swipe of the screen to make a knife cut across and disembowel the unfortunate zombie in front of you.
The brilliance of the game is that it introduces players to more and more concepts in a natural progression. New zombies start showing up here and there as the stages progress. Suddenly there's a vulture, or perhaps a jumping fish, which will require different tactics, and keeps the game moving forward at a steady pace without ever outstaying its welcome or becoming stale. The platforming also becomes more complex gradually, with more precise jumps being required, or perhaps a more labyrinthine path to be navigated.
For fans of gore and grotesquery, the game is gorgeously animated, using backdrops that clearly give a sense of a desolate area, with zombie death animations almost as adorable as they are disgusting. The game clearly wants us to know Max is growing more powerful, which means as more powerful guns get purchased from all the gold the zombies are dropping, they show in Max's hands, just as lovely an upgrade as you would hope. This is a game about rewarding players for the challenge it presents, rather than using zombies and the setting to punish them or try to evoke a fear response.
Unfortunately, if there is a downside it would be that sometimes the level design decides to hang out at the bottom of a screen quite a long time, which means some of the information is vaguely blocked by the on-screen buttons one is asked to press. This is more of an issue for the iPhone, where screen space is at a premium. It's never overly debilitating, though it can be annoying.
For fans of the side-scrolling shoot-em-up, Apocalypse Max delivers quite a lot in a fairly compact package. Requiring a fair amount of concentration, but never overly harsh, it wants you to be a survivor and will equip you with the appropriate weapon to do so.