Dropbox 3.8.5 for Mac OS X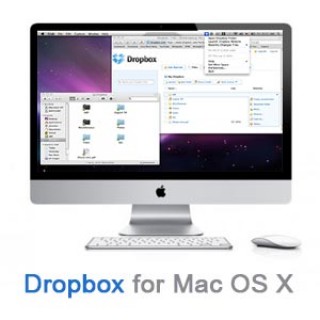 Dropbox works just like any other folder on your computer, but with a few differences. Here's how it works:
Drag and drop to move files around, just like you normally would
Any files or folders inside Dropbox will get synchronized to Dropbox's servers and any other computer linked to your account.
Green checkmarks will appear on top of your files to let you know that they're synced and up to date.
Your files are always safe. All data is transferred over SSL and encrypted with AES-256 before storage. Put your files into your Dropbox folder on one computer, and they'll automatically appear on any of your other computers that also have Dropbox installed (Windows, Mac, and Linux). You can even download Dropbox apps for your smartphone or mobile device (iPhone, iPad, Android, and Blackberry). Everything in your Dropbox is available from the Dropbox website, too.
Sync
2GB of online storage for free, with up to 100GB available to paying customers.
Sync files of any size or type.
Sync Windows, Mac, and Linux computers.
Automatically syncs when new files or changes are detected.
File Sharing
Shared folders allow several people to collaborate on the same files.
See other people's changes instantly.
Use your "Public" folder to link directly to files.
Control who has access to your shared folders. Kick people out and remove the shared files from their computers in the process.
Automatically create shareable online photo galleries out of regular folders.
Online Backup
Automatic backup of your files.
Undelete files and folders.
Restore previous versions of your files.
30 days of undo history. Upgrades available for unlimited undo.
What's New:
Huge performance enhancements: the client-side sync engine has been re-architected to optimize the response time, scale, and resource consumption. As a result, memory usage has been reduced by up to 50 percent. Big changes made to Dropbox are now more efficient and smaller changes remain quick.
Better user experience: the initial setup wizard has been redesigned to make it easier to get started using Dropbox. The Mac OS X version has been rewritten to only use Cocoa, bringing down the Mac download size by 20 percent.
Selective Sync: you now can choose which folders get downloaded to which computers, so you don't have to sync stuff you don't need.
Extended Attribute Sync: resource forks and other extended attributes are now supported. Resource forks are an area of a file that certain applications use to store important data, and that most sync programs today completely ignore, which results in a corrupted file on the other end.