Weather Services PRO 3.7 Apk for Android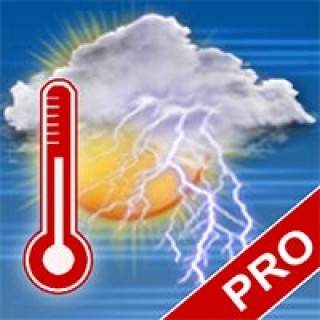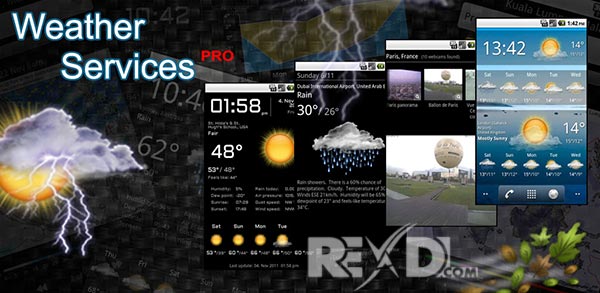 NEW → Add-on app: FlipClock Designer (FREE in PRO version)
NEW → WEATHER RADARS
NEW → WEATHER MAPS ZOOM
NEW → GEOGRAPHICAL MAP OF LOCATIONS
NEW → ADD ANY LOCATION ON EARTH FROM MAP, CUSTOM LOCATION NAME
NEW → WEATHER ALERTS
NEW → HOURLY FORECASTS AND DETAILED CHARTS incl CLOUDINESS
NEW → WEATHER ICON PACKS (install Weather Services Iconpack add-on application first)
NEW → METEOGRAM and CHART CHIDGET (all in one chart also in desktoop widget)
For more details, check our new website:
http://www.android-weather.com
Get the latest current conditions, forecasts, weather charts, forecast maps, webcams and more with largest network of professional weather stations all over the world in a great looking style!
FEATURES, or what makes this a FULL PACKAGE:
======================================
◆ CORE FUNCTIONALITY:
Live and detailed local weather conditions and forecasts
HOURLY weather data including details as Cloudiness, Humidity, Feels like, Air pressure, Wind, % chance of rain and precipitation
Millions! of locations around the world
Exact dynamic and automated current location search with 'My Location' functionality
8 desktop weather widgets with (Flip Clock I & II 4×2, Forecast 4×2, Large 4×2, Forecast 4×1, Clock 4×1, Mini 1×1, Chart widget)
Notification bar icon witch temperature and weather details
Weather alerts in USA
Up to 10 active locations
Geographical map of locations
◆ COOL FEATURES:
Live Webcams for every location to see the real weather conditions (largest webcams network)
Forecast Charts for Temperature, Precipitation, Humidity, Cloudiness
Weather Forecast Maps for precipitation, clouds, temperatures and wind (also in HD available)**
Choose weather data provider which fits your location best (OpenWeatherMap or YR.NO)
Dual Clock – select from System, GMT or Location time
Moon phase, Sunrise, Sunset
App Hints screens
◆ MAKE YOUR APPLICATION UNIQUE:
THEMES – customize your app by one click or create your own !
Fully graphical customizable (font types, backgrounds, colors, text outline …)
Fully customizable app settings (units, startup, updates, notification bar…)
ICON PACK themes PREMIUM CONTENT available (install Weather Services Iconpack add-on first)
◆ OTHER USEFUL ATTRIBUTES:
One of the best battery consumption application on the Market
Quick access to your prefered clock and calendar application (configurable)
Option to display locations time on widget
Cached weather data for offline viewing
Easy use and high-impact visual eye candy views
Broad OS compatibility: Android 1.6+, QVGA, WQVGA400/432, HVGA, WVGA800/854
And there is more to come, we develop and improve our app continuously.
If you like Weather Services-RATE US. Thank you and enjoy!
IMPORTANT
==========
If you are experiencing any issues, please make sure your data connectivity is up & running. Vast majority of our low ratings are because of local issues, please contact us and let us help you first:
Contact: [email protected]
RELEASE NOTES
==============
If you have any ideas, how to improve our application, please let us know.
3.7
Fixed: Google Wallet J&P gold credit topup fixed on some devices
Small fixes – thanks to all reporters and users contacting support
3.6
NEW: FlipClock v2 widget customization – themes, flipclock design, colors, positioning etc.
NEW: FlipClock v2 widget BATTERY status (charging status included)
Fixed: OpenWeatherMap weather data provider
Fixed: Charts landscape F/C on some devices
Small fixes – thanks to all reporters and users contacting support
3.5.1
Fixed: OWM data provider – rain status on some devices
Small fixes – thanks to all reporters and users contacting support
… and more (v3.5-v1.0)
** we provide Forecast Maps, which are not Live Radars, as some may exchange this expression. Live Radars are being developed and will come soon