UCam Ultra Camera Pro 6.0.6.011516 Apk for Android
Current Version: 6.0.6.011516

File size: 22 MB

Memorize:

www.ReXdl.com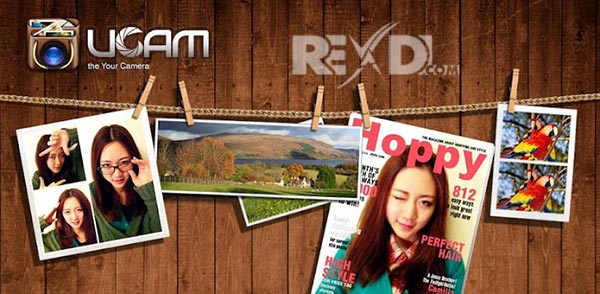 Auto enhance & Filter effect &Fancy sticker & selfie & Totally Free
UCam Camera is the most popular & powerful photographing software! More than 80,000,000 users are enjoying UCam Camera, Why they always choosing UCam Camera?
Over 80,000,000 users and 15 languages !
Fast and easy:Auto recognize the view, Just need press the shutter and wait a second!
Auto enhance:High quality picture It`s just like What you see in the eye!
Selfie:Magic beauty while retaining the natural look of your skin!
 Photo editing:More than three hundred Fancy sticker、frame、magazine cover and so on.
Effect:The most popular filter form Instagram、Candy Camera、MIX、Pomelo and so on, We all collect in it!
Performance parameters:Support more than 30 software/hardware camera parameters to make sure high quality picture/video.
All social tools support !
Come to our Facebook and Start a cool life!
https://www.facebook.com/ucamera.camera
。.。:+* ゚ ゜゚ *+:。.。:+* ゚ ゜゚ *+:。.。.。:+* ゚ ゜゚ *+:。.。.。:+* ゚ ゜゚
Auto Camera
It can Auto recognize and enhance what`s kind of scenery you are take intelligently, You won`t do anything but press the shutter, And you will have a high quality picture. E.g. fill in light on dark place, more colorful on the landscape, Auto Natural beautification on portrait and so on.
Easy like a point-and-shoot camera!
Magic Beauty Camera
Natural beautificationAutomatic face detection + Skin detection + Instant makeup effect
To be "IT Girl" !
Monster Camera
Make fun of someone`s face to be a monster or taking a photo to have a twin sister/bother, etc.
That`s so easy, a lot of fun in this Mode.
Scenery Camera
Using a camera taking amazing photo frame/magazine/advertisement board to it. You can be a big star!
Panorama Camera
To use a camera app can take professional panoramic photos of all view you want!
Video
Records of sweet memory with your family!
Collage Camera & Picture Edit
 Collage Camera:Combine your favorite photos, awesome stickers, fun fonts, self-portrait and the ability to share to your favorite social network
 Strongly edit feature:Soften/whiten skin, trim face, eyes enlarge, perfect text, bubble and label, hundreds of frames, textures, decors and so on.
Social tools Support
Support Instagram、Facebook, Twitter, Flickr, Tumblr, Mixi, Sina Weibo, QZone, Wechat, Wechat Moments
Strong Support Team
Facebook:https://www.facebook.com/ucamera.camera
Twitter:https://twitter.com/UCam3
Sina Weibo:http://weibo.com/ucamera
QQ Group:32506138
The functions of a variety of cameras and photo editing software are in one camera –UCam Ultra Camera, the only camera you need!