Tower Ninja Assassin Warrior 3.2 Apk Android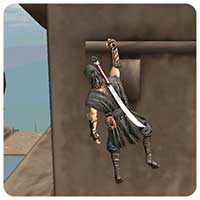 Tower Ninja Assassin Warrior 3.2
Apk Android
Once upon a time there was a prince and princess in a peaceful kingdom. Both were living a happy life in their empire region. The citizens of their kingdom were happy with their rule. But the barbarian enemies didn't like their happiness and joy. They were evil assassin warriors. They kidnapped his beloved princess and put it in a tower of a castle. Now a war is begun between two bad & good forces. The one is the good and the other one is the evil. It is the war of hate and love. Ninja Princess has to try his best to save his beloved princess who is trapped in the tower. He has to pass the hurdles to save his princess. These hurdles are in the shape of enemies who are waiting for him and he has to climb on the tower like a frog. Enemies will try to kill you. Being a skillful sword killer you have to use your sword and slash your enemies into pieces and take your revenge. There are five different stages pass these stages to save her. They are unaware about your hidden skills use them and save your princess and go back to your dream world and live happily ever after.
Features:
Amazing levels
Climbing and fighting skills
Enjoy free roaming in the area
Realistic graphics with real physics for best experience
Amazing background sound
Download this violent action game with thrilling and action pack game play.
WHAT'S NEW
★ Added two new levels
★ New UI look
★ Improve enemies AI.
★ New barbarians to fight.
★ Add new music to game.
★ Improve player health system.
★ Offer new products to purchase
★ Improved game play with a lot of new features.
★ More enemies to fight.
★ Add a new way to user navigation.
★ Now more easier controls.
★ Mission briefing for user.
★ Reduce game difficulty.
★ Fixed joystic issue.