Throne Rush 5.11.0 Apk Strategy Games for Android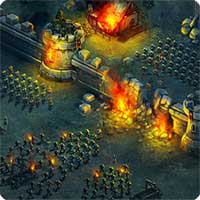 Online
Epic war game with more than 20 million downloads
More than 500 000 5-star reviews
Download Throne Rush to reveal an amazing fantasy world and create your own kingdom!
Features:
Build, fortify, protect! A huge variety of buildings and resources;
Unique mercenary — you can upgrade them until they're invincible!
Special heroes with special talents: archer, swordsman mage and more;
Exciting quests every day — you won't get bored!
Clash your swards with the enemies;
Epic campaigns — kill all the monsters!
Many clans and strategy alliances;
Unique card collections – get your flash royale
Themed events, heroes and artefacts;
Priceless help from your friends — fight together in royal spirits!
Brave Warlord, the Empire will be yours!
The most dynamic and intense wargame 2015
WHAT'S NEW
Island Rush begins soon!
– Assemble a crew of the best warriors of Adergran and the residents of the Thousand Isles
– Take the pirate forts by storm to seize their riches
– Find mysterious islands in the ocean to obtain treasures
– Participate in the Thousand Isle Tournament and prove that your Brotherhood is the best in the seas of Adergran
– Exchange pearls for enchanted chests in the Wizard's Store
Prepare for battle.