Texter SMS Pro Messaging 2.0.4b Apk Unlocked for Android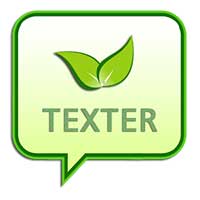 Texter SMS with beautiful fast user interface based on material design.
✔ Features include:
☆ Dual sim and Tri sim support added for Android 5.1 and above devices.
☆ Light & Dark Themes.
☆ Popup notifications for quick reply – Turn them off or on as per need
☆ Different colors for each thread – Change colors if you want different
☆ Add different wallpaper background for each sms thead
☆ Location & Contact sharing
☆ Frequent contacts for quick sms sending
☆ Fast searching
✔ Private Inbox with Ability to mark multiple contacts as private with Pincode protection and more
✔ SMS, MMS & Call Blocker for specific numbers smartly blocks unwanted sms messages from strangers. Be it your bothersome Ex or annoying marketing messages.
✔ SMS Scheduler – Use Texter to create scheduled sms messages for one or multiple recipients with Flexible scheduling – you can send sms once, every hour, every day, every month and more
✔ Backup & Restore
☆ Backup SMS Messages in XML format, which can be viewed later on your PC in any browser too.
☆ Backup is created locally on the device. Share backup using Email, Google Drive or DropBox ( these apps must be already installed )
☆ Restore backup on your other Android phone.
Download Now!
Please Note: Kitkat or above users will have to make application Default SMS App to work.
Compatible with Pushbullet and MightyText for desktop notifications and replying.
Privacy Policy: http://wiseapps.pk/texter-sms-app/privacy-policy
WHAT'S NEW
Version 2.0.4
✔ Bug fixes
✔ Performance Improvement
Version 2.0
✔ Dual SIM support added
✔ Themes support added
✔ Allows users to change thread colors
✔ Wallpapers support added
Version 1.1
✔ MMS support added
✔ Overhauled Private inbox, more simpler and easy to use.
✔ Several performance improvements
✔ Bug fixes