Tanks A Lot! – Realtime Multiplayer Battle Arena 4.800 Apk + Mod for Android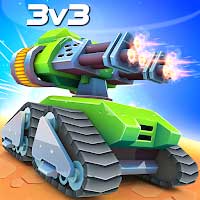 Online

Incredibly dynamic and fun multiplayer game. Build your tank from dozens of parts, play with your friends & dominate the arena – 3 vs 3 PVP action. Try different tactics and win. Choose a tank and join the battle! Download Now!
Tanks A Lot! features four distinct game modes: 
shoot your way in a classic, adrenaline-filled Deathmatch
fight for resources in Brawl
be the last man standing in Battle Royale
play football in Tank-O-Ball, but with tanks!
Need more? No problem!
We have machine guns, artillery, napalm, tasers, railguns, plasma cannons and much, much more. Select weapons that best fit your play style!
There are shotguns for those that like to get up close and personal, lasers for tech geeks, and sniper turrets for long-distance assassins.
Defeat the enemy combat vehicles or be the last man standing in Battle Royale mode—Tanks a lot! is a fascinatingly deep experience that requires careful strategy in each lightning-fast battle
Customise your tanks and dominate the battlefield! Play Now for Free!
WHAT'S NEW
● In this update, we are releasing a brand new event called EL SCORPIONO HUNT!
Break into the scorpion lair and defeat the boss. Take power-ups from his assistants and break his hard shell. Complete stages and get rewards. The grand reward is a new mythic setup!
● New mythic setup:
– Royal Sting cannon
– Desert Lord chassis
– Fakir commander
● This app version also includes other upcoming events. Check out the main screen to know what is on!