Talkray – Free Calls and Text 3.71 APK for Android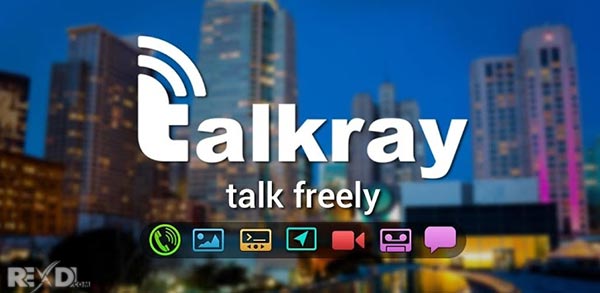 Talkray is the fastest FREE calling and messaging app loved by millions of users. Send messages and pictures or call friends and family across the world for free over Wifi or 3G.
Join Talkray and start chatting today!
Talkray Features:
BEST INTERNATIONAL CALL QUALITY: Clear and optimized for mobile calling across the world.
LOWEST DATA USAGE: Clear and optimized for mobile calling across the world.
GROUP CALLS AND MESSAGING: Supports up to 25 participants for both calls and messaging.
NO NEED TO ADD FRIENDS: Works just like regular sms & phone calls by integrating with your existing phonebook. As long as your friends have Talkray installed, you can text and call them all you want for free!
SHARE PICTURES, PUSH TO TALK MESSAGES, AND MORE: Share emojis, multimedia, voice notes, location, page friends, and much more. Even doodle and add effects to your photos before sharing.
PERSONAL NETWORK: Post photos and updates to your Talkray friends on a clean simple wall without the noise of large social networks.
Why Talkray:
FREE, NO HIDDEN COST: All features are free. No hidden costs. That means free group calls, free international calls, free texts, and more. Uses WiFi or a mobile data connection.
NO ANNOYING ADS: Ditch all that ad clutter and focus on your talk and texting.
SUPPORTS MULTIPLE DEVICES AND LANGUAGES: Talkray supports Android Phones, Tablets, WEAR, as well as iOS. Talkray is available for dozens of languages including Arabic, Bengali, Chinese, English, French, German, Hindi, Italian, Japanese, Korean, Marathi, Portuguese, Spanish, Russian, Telugu, Thai, and more.
————————————————————–
Like us on Facebook – http://facebook.com/talkray
Follow us on Twitter – http://twitter.com/talkray
Circle us on G+ – http://google.com/+TalkrayApp
WHAT'S NEW:
* Create your own stickers.
* File transfer. Send and receive any file.
* Type /help as message to see a list of commands. Added /cricket.
* Unlimited trending stickers with search.
* Reduced apk size with a simplified interface.
* Custom backgrounds for conversations.
* Long press of avatar will put @user in the message to respond in groups.