Speechnotes – Speech To Text Premium 1.9 Apk for Android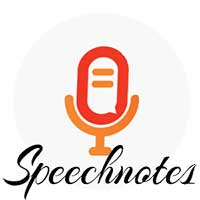 Voice typing has never been so efficient and easy.
Patent pending voice & punctuation keys-commands combo.
* NEW: Bluetooth supported! Talk through your bluetooth microphone / earpiece / car -> Speechnotes will write down every word!
* Super easy: Simply click the microphone and start dictating. No need to login or register.
* EMOJIS!
* Super fast & efficient: punctuation marks can be either dictated by voice commands or single click-inserted with our unique (patent-pending) punctuation keyboard. All that – without ever stopping dictation – type and dictate simultaneously! Like it? There's more:
* Custom keys – instead of typing or dictating your name, signature, greetings or any other most-frequently used text – simply stamp it using the custom-keys row on our keyboard. [Premium feature]
* Continuous (for real): Unlike other apps, where you have to click the mic over and over again for long dictations, Speechnotes will not stop even when you take longer breaks between sentences.
* Clean: The clean elegant design, along with the non-stop voice recognition and other features means you can relax and focus on your thoughts and content.
* Super accurate: using Google's voice recognition engines (best on the market)
* Works for you, with you: Automatic spacing and capitalization. Auto saves every change. Single click to share (send) your notes with any other app.
* Offline (depends on device & settings).
* Fun & personal: Fun font types and sizes for your choice. Dark & light modes – for battery saving or style.[Premium feature]
Powerful speech-enabled (voice-typing) notepad, designed to empower your ideas and creativity.
Featured on Gizmo's, GeekTime & other leading tech magazines. The highest rated Speech-to-Text Chrome app.
A Free Alternative to the pricy Dragon Naturally Speaking
Many of you told us that in some ways, it even outperforms Dragon. If you need to dictate an article, you will find Speechnotes not only cheaper, but perhaps even better for you.
System Requirements
Google speech recognition enabled as the default speech recognizer.
Internet connectivity (though works offline – internet is recommended)
Optional – but will get better results: download the necessary language packages
Multilingual.
Voice Commands in English:
We support a variety of useful voice commands in numerous languages. Here is a list of the main ones in English:
Period; comma; question mark; colon; semicolon; exclamation mark; exclamation point; new line; new paragraph; open parentheses; close parentheses; hyphen; smiley; smiley face; sad face; dash; open quotation; close quotation; quotation
Privacy
We very much value and protect your privacy. We don't store any of your data. We don't share it 3rd parties, other than Google, for the speech-to-text engine. We use the Android's native speech-recognizer – so Android's and your device's maker's privacy policies apply.
Terms
This app is given for your usage and enjoyment AS-IS. We do our best to develop the best apps, but, as with any software, we might have errors and furthermore, we rely on Google as our service provider, which might change its software without notice. Therefor, we cannot be responsible for any data loss, or failure in the software's performance. Furthermore, we rely on Google and Android as our speech recognition engine, so changes in their APIs might affect our app's performance. Failures might happen without notice. We encourage you to test the app before purchasing. In general, purchases are not refundable. Subscriptions can be stopped at any time.
*Background smartphone image, edited based on image by GadgetsGuy and GalaxyOptimus collage. – Derivative work from [1], [2], and [3], CC BY-SA 3.0, https://commons.wikimedia.org/w/index.php?curid=47968311
For additional info & feedback, please contact us at [email protected],
For Speechnotes for PCs, iOS (on Chrome), desktops, laptops, go to https://speechnotes.co
Enjoy notes talking!
WHAT'S NEW
Some fixes based on your feedback. Thanks!
Prior to that we added 3 Amazing new features that you've asked for:
(1) Supports Bluetooth!
(2) Print directly from the app
(3) Export all files to SD card for backup or quick transfer to PC!!
Enjoy notes talking! 🙂