Shoot Goal – World Cup Soccer 1.9.3a Apk for Android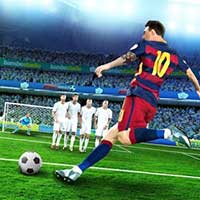 Soccer player of the year is ready to shoot the decisive goal at the world cup final. The defender foul on you so now you have to score to win the match and lead your team to the glory. Become the MVP of the tournament and celebrate with your teammates! Many free kick situations will improve your skills. Shoot a curled goal to avoid the barrier. Score many goals as possible to earn money and fame.
Shoot Goal 2017 World Cup Soccer is completely FREE!
★ ★ ★ ★ ★ Different challenges to prove your shooter accuracy, it´s so fun!
★ ★ ★ ★ ★ Lots of levels to improve your career.
★ ★ ★ ★ ★ The ball effects are just incredible, feel like a pro soccer player!
★ ★ ★ ★ ★ With the new equipment your shooting skills will be epic.
★ ★ ★ ★ ★ Shooting goals with your finger have never been so easy!
Play hard and train your skills (power, technique, free-kicks …) to get a spot in the starting lineup. Impress the supporters with every goal, free kick and penalty and support your team in the stadium. Begin the 2017 season with your favorite team and win trophies of each competition like the World Cup.
Overcome every challenge, get rewarded with every achievement and earn the experience to level up. Rule the pitch with your goals and gain the highest score in each game. Get the best sport equipment and train hard in the gym to give your all in every match. Be your own manager and become a legend in the world of soccer!
2016 – Bambo Studio
WHAT'S NEW
v 1.9 Some Bugs Fixed
v 1.8 New World Cup with 109 New Levels
v1.7.1 Diamonds not collected bug fixed
v1.7 Many bugs fixed:
– Now you can collect money from missions.
– Play every Championship until the end.
– Now it´s impossible to lose the money earned in every level.