Pilot Brothers Full 1 & 2 & 3 Apk + Data for Android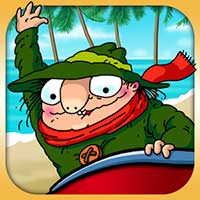 Offline

A provincial Russian town has been shaken in disbelief: their prized, rare, striped elephant, Baldakhin, disappeared from the zoo in the dead of night. The main suspect is its notorious former owner, Karbofoss. Two well-known detectives, the Pilot Brothers, set up a new investigation, pursuing the rogue through 15 comic-style locations to find the missing elephant. Sensible Brother Chief and his not-so-bright assistant, Brother Colleague, solve tricky puzzles and play their parts with precise timing in this humorous adventure game for the whole family!
● 15 Increasingly difficult levels to solve
● 2 Different characters: Brother Chief and Brother Colleague
● Fast-paced, arcade mini-games and loads of absurdly witty mini-games!
● Join the famed duo in their search for the elusive thief!
● Google Play game services support
____________________________
Game available in: English, Chinese, French, German, Italian, Japanese, Korean, Brazilian Portuguese, Portuguese, Russian, Spanish
____________________________
COMPATIBILITY NOTES:
***Note*** This game performs best on high-end smartphones and tablets.
____________________________
***Sign up now for a weekly round-up of the best from G5 Games! www.g5e.com/e-mail***
____________________________
G5 Games – World of Adventures™!
Collect them all! Search for "g5" in Google Play!
Adventure:
▶ Mahjong Journey®
▶ Survivors: The Quest®
▶ Twin Moons Society™
▶ Homicide Squad: Hidden Crimes
▶ Hidden City: Mystery of Shadows
Strategy:
▶ Supermarket Mania® Journey
▶ Farm Clan: Farm Life Adventure
▶ Virtual City Playground®
▶ Stand O'Food® City
▶ Doomsday Preppers™
WHAT'S NEW
Last year's amusing adventure just got that much better.
Now with Google Play Game Services support!
– Minor improvements
– Minor bugs fixed
Join the G5 email list and be the first to know about sales, news and game releases! www.g5e.com/e-mail