Multiplayer for Minecraft 3.1.10 Apk Android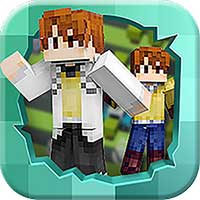 Multiplayer for Minecraft 3.1.10
Apk Android
Free direct download last version Multiplayer for Minecraft Apk Android from Rexdl. This is the App which allow the multiplayer to HOST and JOIN servers on Minecraft Pocket Edition (MCPE) from your Android device FOR FREE. You can play Minecraft Pocket Edition (MCPE) with friends over Wifi/3G/4G. HOST/JOIN Minecraft servers right from your ANDROID device, PLAY on hundreds of public Minecraft servers, and INVITE your friends through social channel (Twitter, Facebook and Google+…)
Easy create/join Minecraft server FOR FREE
Create your private Minecraft server with password
Voice Chat: Chat with playmates in Minecraft server via a simple icon
Manage your own Minecraft server and block griefers from Minecraft server
Different types of Minecraft servers and Minecraft minigames
Play Minecraft Pocket Edition with friends any time anywhere
DISCLAIMER-This is a third party App, it is not the game Minecraft or affiliated with the game and its makers (Mojang or Microsoft) in anyway.
If you have any issues, please contact our team using the email or Twitter. We welcome and finding anyone who's issues we have not been able to fix!
WHAT'S NEW
New features for v3.1.10
1. Fixed the crashing problem on part of devices
2. Bugs fixes.