MiXplorer Pro Mod Apk 6.61.7 (Paid/Lite) for Android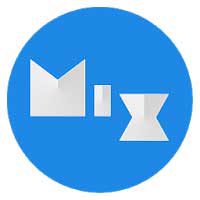 Plugins
MiX Silver is a bundle of MiXplorer file manager and Archiver, SMB2, Image, Tagger, Metadata and PDF addons as a paid app to support development of MiXplorer.
The best way indeed is to explore yourself. But here's a brief list of essential features:
Easily themable with customization option which lets you select any color you like.
Sort, disable and enable all menu options and action buttons.
Unlimited Tabbed browsing and Dual panel in landscape mode and drag & drop between panels also supported.
Easily create Tasks to multitask Copy, Move, … operations.
Various view modes and sorting options for each folder separately!
Customizable bookmarks drawer with essential file types already categorized.
Advanced search functions.
Html viewer which supports MHT, Markdown, AXml, CHM, MAFF and ….
Font viewer.
Export/Import all preferences and bookmarks and customized skins.
Packing/unpacking 7z and Zip/Zip64 (splitted-encrypted), TAR, TAR.GZ, TAR.BZ2, GZIP, BZIP2, XZ, WIM, Lizard, LZ4, LZ5, Zstandard.
Unpacking only: AR, ARJ, CAB, CHM, CPIO, CramFS, DMG, EXT, FAT, GPT, HFS, IHEX, ISO, LZH, LZMA, MBR, MSI, NSIS, NTFS, QCOW2, RAR/RAR5, RPM, SquashFS, UDF, UEFI, VDI, VHD, VMDK, XAR and Z.
All your cloud storage needs accessible from one single app. Choose from 19 providers:
Mega.co.nz, Mail.ru, Dropbox, Box, Yandex, HiDrive, Baidu, Mediafire, IDrive, Hubic, 4Sync, 4Shared, Google Drive, Meo, OneDrive, OneDrive Business, pCloud, SugarSync, VDisk.
+ clouds which support webdav like (Yandex.ru, OwnCloud, MyDrive.ch, DriveHQ, CloudMe, CloudSafe, …).
Modifying zip files.
EPub, MobiPacket and PDF reader add-on.
Root access for all advanced operations.
EncFS volumes supported for all storages.
File encryption and decryption using Aescrypt file format.
FTP/HTTP Server built-in + TCP server to receive files from other devices using MiX (Send-to option).
Image Viewer (it supports GIF, SVG, TGA, ICO,…).
Media Player + VLC codecs add-on.
Powerful Text Editor and Code Editor.
SAMBA (SMB1, SMB2.0/2.1), FTP, SFTP, WEBDAV supported as well.
RAW and TIFF decoder.
And many more awesome features for you to explore!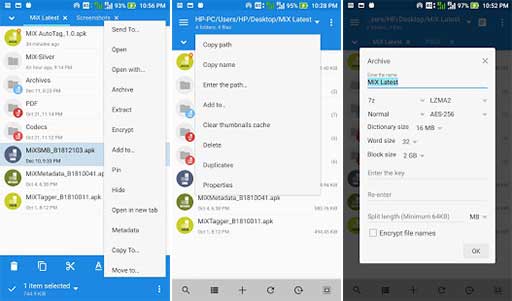 WHAT'S NEW
v6.61.7:
• Fixed external storage issue in Android 6.
• Some other tiny fixes.
v6.61.5:
• Added 'Don't crop thumbnails in gallery mode' in Toolbar+VIEW+Options. Long-press on the address bar & clear thumbnails cache.
Tips:
• Tap on ADD in bottom toolbar + Storage + Document provider + Find & select your USB or other drives.
• Swipe the bookmark item to the right to delete or edit it.
• The default user for the servers is 'Admin'.
• Long-press on the items & buttons for more options.
Mod Lite
– My translation into Russian.
– Fixed display of round icons on firmware, where they are used by default.
– Silver icons replaced with classic ones.
– Added a white theme in Material Design style.
– Cleaned up resources.
– Languages: Russian, English.