Jongla – Instant Messenger 2.9.4 Apk for Android
Jongla – Instant Messenger 2.9.4
Apk for Android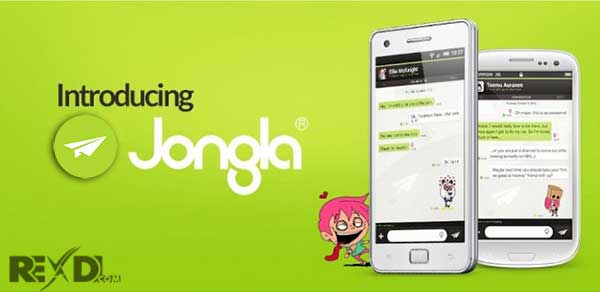 Free direct download last version Jongla – Instant Messenger from RexDl. Forget SMS. Chat with friends for FREE! Easily share text, stickers, images, videos, voice messages and more with your friends. Try Jongla now, you'll love it!
MANY GOOD REASONS TO INSTALL JONGLA:
FREE AND SECURE
Chat and send unlimited messages worldwide via Internet, 4G/3G/EDGE, or Wi-Fi. Your chats are safe with Jongla's full TLS encryption.
PUSH-TO-TALK WITH SOUND CANDY
Record up to 1 minute push-to-talk voice messages with amazing sound effects and share the fun with your friends!
CHAT WITH ANYONE
Start a chat with any of your contacts. You can also chat with non-Jongla users. They will receive a link to a web chat via SMS.
WORLD'S LIGHTEST MESSENGER
Ultralight but heavy in features. Choose Jongla to save data and room on your device.
SIMPLE & BEAUTIFUL
Stunningly beautiful and intuitively easy-to-use.
FAST AND RELIABLE
Super fast and reliable multi-platform messenger that delivers your messages safely.
GROUP CHATS
Have a group chat with up to 50 friends!
PERSONALIZATION BEYOND ORDINARY
Use your favorite photos to make your profiles rock!
MORE TO COME SHORTLY
Check out all the cool features and get stoked because more are coming soon!
Download Jongla!
PERMISSION REQUESTS
Contacts
We ask for your permission to read your contacts in order to automatically let you know which friends of yours are already using Jongla.
SIM-card number
We ask for your permission to read your SIM-card number because it is needed to create your Jongla profile. We don't show your number to other Jongla users.
Location info
We ask for your permission to access your location info, but it's for your friends, not us. This feature allows you to share your location in Jongla chats.
Sending SMS messages on your behalf
We ask for your permission to send SMS-messages on your behalf.This is because, in some countries, shopping for stickers in Jongla happens via operator billing (SMS messages).
WHAT'S NEW
What's new in Jongla 2.9.2 for Android?
– Group size can be up to 100 users
– Ability to change the application font sizes
– Totally new Sound Candy voice filters
– New, streamlined UI for push-to-talk and Sound Candy
– Other important UI improvements
– Bug fixes