JEFIT Workout Tracker 11.30.13 (Full Unlocked) Apk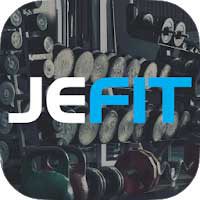 Tracking workout training routines using JEFIT gym log is easy. Programs from bodybuilding, 3 day splits, 5×5 & strength plans to home exercises & body weight lifting.
★ Google Play Editor's Choice ★ Men's Fitness – Best Fitness and Health Apps ★ USA Today – New year, new you
Over 8 million people use JEFIT to track their workouts and transform their bodies.
JEFIT, the number one workout tracking planner app, provides free fitness program database to help you stay fit, make progress and get the most out of your gym or home fitness sessions. From beginner programs like 5×5, 531, stronglifts, 3 or 4 day splits, starting strength to advanced bodybuilding, weightlifting, powerlifting or kettlebell routines to programs using bodyweight, limited space or specialized equipment, JEFIT is the only workout app you need.
Who is this app for?
If you've logged your workouts in a journal, planner or just love training at the gym on your own schedule, JEFIT will help you reach your strength, weight and fat loss, and training goals from beginners to advanced lifters. We've made the app to motivate you by rewarding you for consistency, pushing yourself to new personal records and committing to challenges with the community.
Top Features
Web or App – Track with the app and edit routines on our web app.
Track Workouts – Set your exercises, track weights and reps and we'll show you the results of your training
Exercise Instruction Database – Over 1300+ demonstrations and variations with HD video from experts
Intuitive Tools – a Swiss army knife for training tools, including rest timer, superset, interval timer, body measurements system, and most importantly, workout routine planner.
Training Programs – Customized workout programs made for 3, 4 or 5 day splits, fat loss, stronglifts, 5×5, starting strength, bodybuilding, 531, weightlifting, powerlifting, GZCLP, Greyskull, or build your own
Stay Motivated – Join our monthly fitness challenge with cash prizes and get support from other gym goers in the community. Also add your gym buddies to compare routines and lifts so you can reach your goal of improving strength, getting lean, toned or just staying active
Set Goals – Want to lose weight, get lean, get stronger or exercise consistently? You can build that in JEFIT's custom journal
Add Friends – Find new fitness buddies in our community. Whether it's someone to spot you at the gym or to compare bodybuilding tips.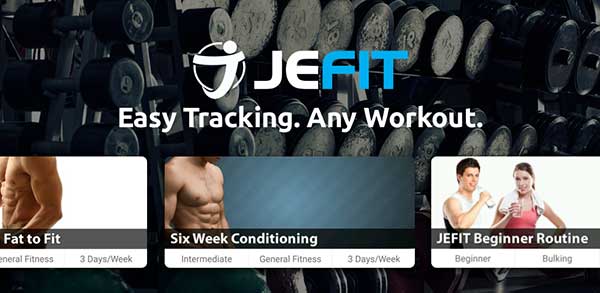 Programs for any fitness level with full instruction database
✔ Beginner Programs – Stronglifts, 5×5, Starting Strength, 3 day splits
✔ Advanced Programs – Powerlifting, bodybuilding, 531, GZCLP, Greyskull
✔ Target Programs – Abs, Arms, Glutes, Fat and Weight Loss, Toning
✔ Personal Training – Get routines built by your personal trainer
✔ Sports Training – Baseball, Space
✔ Equipment Focused – Squat Racks, Barbells, Kettlebells, Dumbbells
✔ Bodyweight or Minimal Equipment – Bands, Mats, Machine Only, Core Focused
✔ Kettlebells, Cardio, Circuit Training, Space Limited Routines
* Or build your own custom workout routines or schedules
Special tools and features
✔ Access from Desktop and Web
✔ Rest Timer – Set custom times to remind when to lift
✔ Supersets and circuit training routines supported
✔ Interval Timer, Set Notes and 1 Rep Max Calculator
✔ Body Measurements and Weekly Planner for Scheduling
✔ Social Feed and Community Contest
✔ Store Workouts in the Cloud and share with your personal trainer
1,300 exercises supported with full HD videos in our database
✔ Barbell, Dumbbell, Machines, Cable, Band
✔ Cardio, Elliptical, Rowing, Bike, Swimming
✔ Static Movements, Planks, Stretching, Abs
✔ Bodyweight, Kettlebell, Core
✔ Create custom exercises
Benchmarking, analysis and instructions
✔ Personalized charts for lifting volume
✔ Benchmark against other users or gym buddy
✔ Weekly summaries of progress
✔ Personalized Record PR tracking
WHAT'S NEW
– Fixed workout day sort order
– Improved onboarding flow
– Improved content sharing throughout the app
– Reduced app size by converting png files to webp
– Support notification permission for Android 13
– Improved feedback request UI/UX
– Improved UI/UX during workout tracking
– Updated current plan UI