ISS Live – HD Earth viewing 2.3.2 Apk Unlocked for Android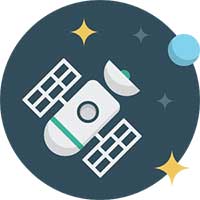 ISS Live – HD Earth viewing 2.3.2 Apk

Unlocked

for Android
ISS Live allows you to watch live video feed of the Earth from International Space Station directly on your android phone or tablet. ISS live offers you an exciting experience where everything is thoroughly thought and designed, the complete app that shows Earth video streaming about 400 km above it, with a lot of options fully customizable.
You will have available a stunning live HD video streaming to your device screen, directly from the International Space Station cameras.
The app has integrated the native Android Google Map in it, where you can follow the ISS orbit around our planet, zoom, rotate, drag, tilt the map. Also, you can choose between different types of map, like Satellite or Terrain, and an information window is also presented with data such as ISS speed, altitude, visibility, country above which ISS is right now, latitude and longitude. Everything is customizable from settings menu.
– This app is Google Cast-enabled, so you can enjoy the space right on the big screen of your TV by using your Chromecast device or anything else that support this technology.
– Take picture of the stunning views you like the most and share with your friends. View and manage your previously saved screenshots at any time with the built-in explorer.
– Get notified when sunrise/sunset events occur by the app notification system, set it to not disturb you during specific hours as you wish
– Use the app as an ISS tracker. Track satellite position on map with the very precise ISS tracking system and see it's position on map in real time
– Use our online chat system to discuss with fellows that are interested in satellites, ISS, space, austronautics
– Know when you are going to see a sunrise/sunset with the advanced prediction system of ISS Live
– Pause the live feed if you want to preserve your bandwidth, resume it at any time
– Watch the outsanding real time video transmission of the earth
You have four different source of live video streaming:
1. Live HD camera – a wonderful HD video streaming view of our planet
2. Live Standard camera – this is not HD, but it shows a live streaming of the Earth and from time to time details of the ISS, like tests, maintenance and communication with Earth
3. NASA TV – is the television service of the United States government agency NASA (National Aeronautics and Space Administration).
4. NASA TV Media.
Note:
When ISS (International Space Station) is on the night side of Earth, the video image is black, which is normal.
Sometimes video is not available due to transmission issues or when the crew is changing cameras. In such cases, usually you will have a blue or a blank/blue screen. In few minutes the transmission should return, so, please be patient. This is not an app issue.
The app that offers you everything you need if you are a space lover or want to enjoy beautiful view of our planet.
WHAT'S NEW
2.3.2
– Added Spanish translation
– Minor fixes
2.3.1
– Fixed camera 1 issues
– New translations: Portuguese (Brazil), Dutch
– Minor UI changes
– Performance improvements
2.3.0
– Google Cast support
– New translation – Turkish
– ISS orbits, can be changed up to 5
– ISS horizon circle
– User location will be show on map
2.2.6
– Fixed crashes for Android versions below Lollipop
– Improved screenshot window