GPS Waypoints Navigator 8.65 APK for Android
9.99 $ in Google Play
Free in ReXdl.com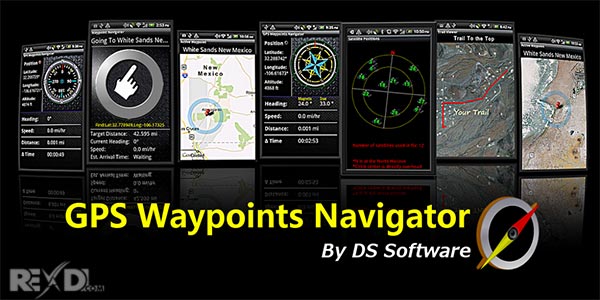 Convert your phone into the most powerful GPS for Android Powered Devices with GPS Waypoints Navigator, the world's most sought-after smart phone navigation aide. With dozens of options for navigating the back-country, waterways and roadways, the tool set found in this software package will quickly become your best friend. Venture beyond network reach using offline maps and tools that only require a good view of the sky. Share important location data with friends who will be able to navigate to your favorite waypoints and find your favorite trails. Get:
Unlimited access to our vector map library with over 400 maps. Download maps for offline use. Transfer maps to your SD card to free-up internal memory.
Waypoint and Trail Management Systems.
Waypoint Search.
Waypoint File System.
Waypoint photography.
Lots of maps! Choose from multiple sources: Downloadable Vector Maps, Topo Maps, Google Maps, Satellite Maps, OpenStreetMaps- MapNik, Mapquest, Cycling Maps OpenSeaMap.
KML, KMZ & GPX file importing and exporting for trails and waypoints. Data is viewable and navigable on your friend's devices and in Google Earth.
A panel for all your GPS parameters.
Navigational compasses.
Trail Recorder.
Military Coordinate Finder
Several waypoint creation tools: Enter coordinates, set a waypoint by tapping on a map, save your current position or enter an address (voice entry supported).
Two Waypoint Guidance Systems including a dynamic waypoint compass that always points to your target and a new navigation concept- GPS Reflected Pseudo-Radar (available only from DS Software).
Trail Guidance System.
Map Search: Supports entry of addresses and coordinates in just about any format including UTM and MGRS.
Satellite reports including satellite signal bar graphs and satellite position mapping.
Email a map of your position. Navigation software not required on recipient's device.
Seamless integration with Google Earth.
Different GUI 's to choose from.
Data reporting for marine navigation.
Supports several coordinate formats: Latitude/Longitude as degrees, deg:min or deg:min:sec, UTM, MGRS.
Proximity alerts.
Altitude profiling determined from your position matched to altitude values in land survey databases providing you with values that are more reliable than altitude values returned from your device's GPS chip.
Map with floating reticule that shows your position with bearing and distance to reticule.
Sunrise Sunset report- Does not require a network connection. Useful for planning expedition turn around time or time to make camp.
Data is backed up allowing battery change without data loss.
This premium navigation system is ad-free
Also get:
Turn-by-turn driving directions and driving maps.
You decide how compasses are controlled- By GPS or magnetically. Use magnetic control for indoors, underground or in caves.
Customized unit reporting: Units reported as either U.S, Nautical or SI/Metric
Detailed Help file
Excellent customer service
Supports multiple languages: English, Spanish, German, Portuguese, Japanese, French, Italian, Russian, Chinese (traditional and simplified).
With GPS Waypoints Navigator, every navigation experience will be as easy as a walk in the park!
Recent Additions
GPX, KML AND KMZ FILE HANDLING. EXPORT YOUR TRACKS AS A GPX FILE AND USE IT TO HELP BUILD OPENSTREETMAP. IMPORT GPX FILES FROM GARMIN. KML FILES ARE BEST FOR VIEWING IN GOOGLE EARTH.
MAP MANAGER
WAYPOINT SEARCH
WAYPOINT CALCULATOR
MARINE MARKERS
WAYPOINT PHOTOGRAPHY
MAP SEARCH
ALTITUDE SUPPORT: choose Satellite, United States Geologic Survey location based altitude or Mapquest's Altitude Service. USGS and Mapquest data are generally more accurate but require a network connection. USGS available only in contiguous U.S.A, Canada and Mexico.