Fruit Attacks 1.0.119 APK Download for Android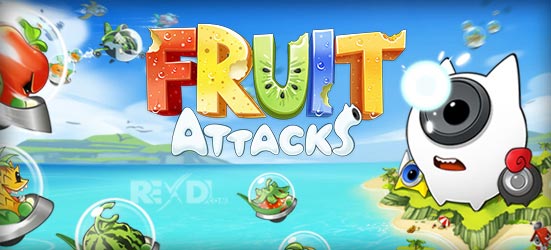 "Fruit Attacks might be freshest puzzle game you've played in ages" – Android Central
Using an innovative multi-touch aiming system, skillfully aim and bend trick-shots at waves of invading fruit attackers to take them out before they reach Earth.
Features:
Shoot and strategize your way through 180 unique stages (with more on the way)
Earn power-ups, rewards, and PET CATS
Chain your shots together into epic combos to secure a high score on the leaderboard
Unlock, upgrade, and master six shot types, each requiring different skills and strategy to use effectively
Destroy fruit attackers to collect their juice and blend it into tasty rewards
Story:
When his new invention, the Sound Amplification Transmission Inducer (SATI), is ridiculed and cast out by the public, DJ Treblebass, Ph.D. retreats to a remote tropical isle. Later, as nigh-invulnerable sentient fruit from another planet begin to invade Earth, seeking revenge for the consumption of their tasty brethren, SATI proves to be the only weapon capable of defeating them. Now it's up to Dr. DJ and SATI (and you!) to save the world from the invading fruit force!
Fruit Attacks is totally free to download and play but some optional items can be purchased with real money from inside the game. You can disable in-app purchases within the settings menu of your device. We cannot offer support or compensation related to use on non-recommended devices.
WHAT'S NEW:
Altered movement pattern for easy Applians.
Improved the full charging effect of fauna, fire, and electric type Mini-SATI.
Increased touch recognition area on the world map screen.
The preparation UI now unlocks with the progression of the tutorial.
Added difficulty recommendation pop-up when the stage is too difficult to be completed with the current selection of SATI and Mini-SATI.
Added animation for the three capsules in the result reward screen.
Fixed minor bugs.