Exile Survival MOD APK 0.55.7.3130 (Full) Android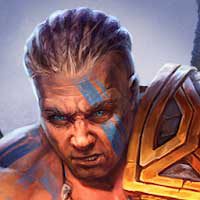 Current Version: 0.55.7.3130

File size: 158 MB

Memorize:

www.ReXdl.com
Online
The once flourishing lands of Exile Survival were torn apart when ruthless gods unleashed bloody massacre on each other leaving the world in ruins. After the battle was finally over, scarce survivors saw the devastating results they would have to live with. Cities and towns reduced to bare wasteland, civilizations wiped out, life thrown back to its ancient form. You play as a lone exile banished from his tribe and forced to battle his way to survival. Be ready to venture on a brutal adventure, explore deadly wasteland and face the consequences of the bloody war.
ORIGINAL SETTING. The world of Exile Survival is a unique mixture of contrasts. Bright colors and lush visuals go hand in hand with harsh action, barbarian brutality and gore. The further you dig into the game, the better you'll feel the true, harsh and bloody core of everyday survival in wasteland.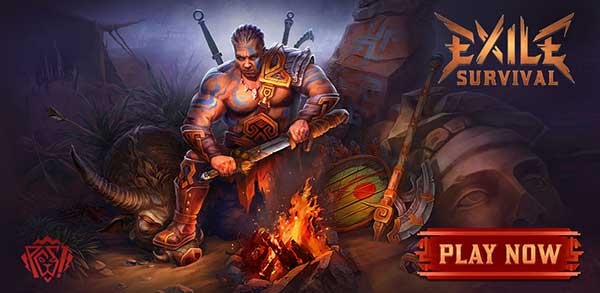 STUNNING VISUALS. Fight for your survival in stunning topnotch graphics. The unique and beautiful visuals of Exile Survival will satisfy even the most critical experts while being superbly optimized and ready to smoothly run on most of modern devices. Dive into bloody action and brutal gore, leave the optimization to us!
BUILD YOUR OWN CLASS. Instead of cornering you in a strict set of preformed classes Exile Survival gives you a blank check and offer to build your own unique survivor. Explore hundreds of unique skills, combine them as you wish and craft your own way of playing.
LUSH LOCATIONS. Exile Survival shows that even the world buried in ruins can stun you with diversity and beauty. Explore deadly desert wasteland, fight your way through sinister dungeons and engage in brutal action in disrupted remains of forsaken cities. The future updates will further enrich the ingame locations and take your survivor to the snow-bound mountain picks, chasmal ocean and so much more.
BUILD YOUR BASE. As tempting as the dangers of wasteland in Exile Survival can be, all roads still lead to home. Build your base to become stronger, craft all the needed materials to turn your humble house into a real fortress. Leave the brutal world outside while you can craft, build and evolve your survivor behind the sacred walls of your shelter.
CRAFT YOUR WAY TO VICTORY. Exile Survival offers you a unique and refreshing way of getting new armor and weapons. You don't have to take your chances with boss drops anymore. Now everything is in your hands! Explore various locations to gather resources and craft whatever weapon or armor you need at the moment. Don't wait for a lucky drop, craft the ultimate equipment yourself!
BLOOD AND GORE AT THE TOUCH OF YOUR FINGERTIPS. Brutal skirmishes, bloody fatalities, spectacular fights and torn of limbs. Exile Survival doesn't play around, it dives right into the brutal world of bloody barbaric action. You fight the best you can to survive or you die at the hand of your enemies.
INTUITIVE CONTROLS. Exile Survival brings the classic hack-n-slash action RPG experience to the mobile platform. The intuitive controls let you fight through hordes of enemies, perform spectacular fatalities and build up the combo meter as if you were the survivor yourself. No more overloaded interfaces, hack clean cuts with clean controls.
UPCOMING ONLINE CO-OP PVP MULTIPLAYER. Exile Survival is not just another hack-n-slash action RPG but a product of love. The future content updates hold massive new features with online multiplayer mode being one of the most important one. Play with friends in CO-OP PVE mode or join a Clan and fight other survivors in brutal PVP. The more victories you achieve, the easier it'll be to survive.
WHAT'S NEW
Hello, barbarians! We come back to you with this quality of life update!
It's more focused on our newcomers, but there is something for you as well:
— Endurance: total energy increased to 200!
— Health care: cloth armor durability more than doubled!
— Convenience: Hospital outskirts enriched with resources in case you forgot to bring tools…
And more!
Share your opinion at
[email protected]
🙂