Euro Train Simulator 2 1.0.5.6 Apk + Mod for Android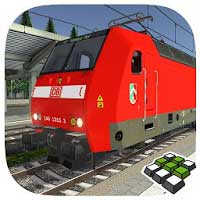 Offline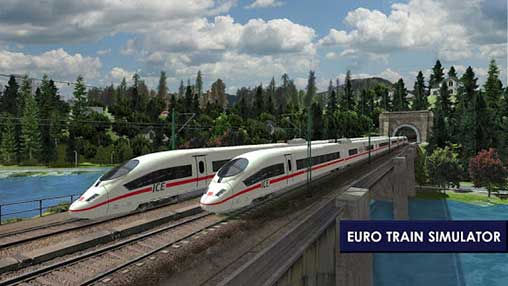 Euro Train Sim 2 is the first in a planned series of high-quality, feature-rich railroad simulation games covering every major destination in the world. Featuring an intuitive, easy to use interface, the game lets users play Career Mode to accomplish varied scenarios and unlock new trains and routes.
Euro Train Sim 2 is the first mobile train simulator to feature officially-licensed real trains from German train operator Deutsche Bahn. The locomotives have been authentically recreated with maximum attention to detail.
☆ Official DB trains ☆
Features stations from Germany and France and official DB licensed trains including the world famous ICE3, DB142 and a range of freight trains.
☆ Authentic German and French Stations ☆
Munich, Merring, Augsburg, Grobenzell, Olching, Ulm, Strasbourg, Stuttgart, Karsruhe and Paris.
☆ Permit System ☆
Access to every feature, train and location in the game is through a dedicated Permit System. Purchase newer permits using the in-game Credits and Gems. 
☆ Career Mode ☆
Dedicated career mode with Objectives that are required to be completed for maximum reward. Career accomplishments are featured on a leaderboard.
☆ Functional Driver Cabin ☆
A detailed Driver Cab Control view shows fully functional levers and switches. The needles and gauges work depending on the condition of the train.
☆ Weather System ☆
Hyper-realistic dynamic weather system with incredible night detail and shadow.
☆ Payloads ☆
Exclusive payload for various freight compartments. Car transporter, Coal Wagon, Oil tankers. Etc
☆ Schedule Board ☆
Schedule for arrival and departure lets users follow a time table like real world.
☆ Camera Angles ☆
22 camera angles shows the game from every view imaginable.
☆ Passenger Area ☆
Passenger seating area with first class, second class, execute cabin. Also view of restaurant, bar and restroom.
☆ Train Controls ☆
Throttle, braking, realistic wiper, cab light and headlights, horn and pantograph are available to the driver and are required to be operated for certain objectives in Career Mode.
☆ Door Operation ☆
Door control system to let the passengers into the train.
☆ Drive Mode ☆
A quick mode that lets you choose the train, route, source and destination stations, weather and the time of the day for the simulation.
☆ Multi Language Translations ☆
– The Game already support English, French and German and will add languages like Italian, Spanish, Czech, Portuguese and Indonesian in the future.
☆ Signal System and AI trains☆
The Signals system are accurate and keep a large number of AI trains in control without any traffic.
☆ Contacts Permission is required by Google Play Games and is not necessary for playing the game. Feel free to refuse that permission if you do not want Google Play Games leaderboard.
————————————————————————————————————————————-
☆ Hope you enjoy playing Euro Train Simulator 2. Future updates will add more train operators and routes from UK, Belgium, Spain and Italy. More updates are coming soon.
So what are you waiting for? Become a Train Driver today and drive all across Europe.
——————————————————————————————————————-
WHAT'S NEW