Era of War Clash of epic Clans 2.4 Apk + Mod for Android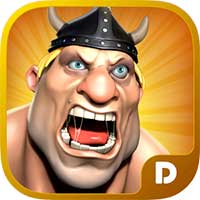 Free Boosting/Increased Boost Time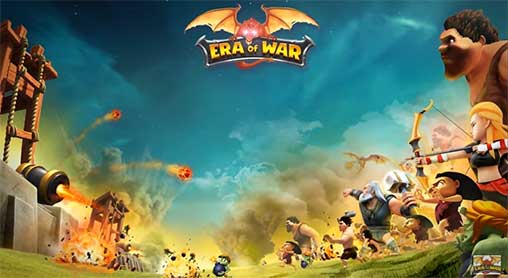 Era of War: Clash of epic Clans. Top real-time strategy game from Vietnam!
Have guts? Join and show off your leadership!
Build and upgrade your army to conquer the World
Construct and facilitate your base to fend of raiders.
Forge a mighty Clan with worldwide players.
Lead you Clan to resounding triumph. A great leader always comes up with great strategies!
Era of War: Clash of epic Clans brings you back to ancient Northern Europe time when human beings and supernatural powers were implacable enemies.
What you need to do is to build a powerful army and putting your strategic talent into practice in order to fight against players all over the world, occupy their resources and earn reputation.
Strive to penetrate into enemy's territory, drop your troops at appropriate positions to destroy their defensive structures.
Construct an impregnable fortress and declare your absolute sovereignty in such a chaotic era.
Join a Clan to strengthen your military forces and fight in epic Clan battles.
Era of War: Clash of epic Clans
FEATURES:
• FREE TO PLAY with eye-candy graphics, lively sound effects
• Build your village into an unbeatable fortress with numerous defensive structures
• Conquer others to gain reputation and loots for the development of your Empire
• Raise your own army with more than 10 unique units and multiple levels of upgrades
• Discover your favorite attacking army from countless combinations of troops, spells, special warriors, etc.
• Overthrow the campaign mode to earn valuable resources
• Form a Clan, invite friends and players worldwide to join and share breath-taking moments as well as the taste of victory.
• Battle against rival Clans in Clan Wars to gain more and more resources.
Era of War: Clash of epic Clans
SUPPORT
Should you have any problems, we are here to help:
Fanpage: https://www.facebook.com/EraOfWarLOC?ref=hl
Youtube: https://www.youtube.com/channel/UCPIG3OLVZBJdk7rkFDeFxdw
Email: [email protected]
Hotline : +841655 077 334
All of your inquiries will be addressed within 24 hours.
Era of War: Clash of epic Clan
Version 2.0
1. Updates:
– New graphic design and graphical user interface
– Updated graphic design of Food storage, Clan Hall and Research Center
– Updated graphic design of Punch Trap, Cluster Bomb, Single Air Bomb
– Updated graphic design of Gasbag, King Kong and Warriors
– Visual change of Clan's icon.
– Cannon level 13
– Dragon level 5 and Fire bat level 7
– Oil rig available to be built at Stronghold level 7
2. New features
– Able to transfer and link devices
– Rename card
– Able to "boost all" resource collectors.
– Able to boost defensive system in Clan wars.
– Display countdown timer during battle replay
– Adjust Soul, Goddess of Archery, Bombing spell and Rampage spell's indicators
– Adjust the number of cups received
3. Bug fixes
– Fix several bugs
WHAT'S NEW
Version 2.5
1. Update
– Stronghold level 11
– Magic Tower level 9
2. Fix
– Remove Noel loading
– Various minor bug fixes