Dungeon Boss 0.5.6239 Apk Mod for Android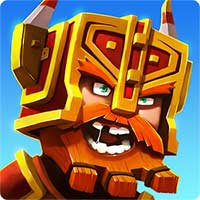 Dungeon Boss 0.5.6239
Apk Mod for Android
Free direct download new version Dungeon Boss Apk Android from Rexdl. Build a rich roster of heroes, upgrade their abilities, and charge your teams against fierce enemy bosses in this gripping strategy RPG! Unlock a horde of goblin warriors, brain-eating skeletons, ninja assassins, and mythical beasts – all are your allies for attack or defense. Be the boss of your dungeon, defending it against powerful raiding teams, and raid the dungeons of others for your gain. Join millions of players worldwide in this fun and challenging battle adventure!
Key Features:
Collect Strategic Heroes – Build a team, unlock more abilities and take enemy bosses down!
Crush Your Enemies – Fight your way through a vast network of dungeons and rivals!
Guilds – Band together with your allies to compete with other guilds and amass a greater bounty together!
Multiply Your Fortune – Fortify your dungeon's defense against attacks from other players, and raid their dungeons for your own gain.
Tower of Pwnage – Every day is a new battle! Ascend the Tower, challenge your skills and reap epic rewards at the top!
Tournament Events – Qualify for special tournament rewards when you earn top-tier status in ongoing events!
Connect with Friends – Expand your team by making friends in the game! Summon their heroes to rush into dungeons and assist your team, share tips in chat and more.
Quick Loot – For any 3-Star Dungeon win, you can grab loot, evos and tokens faster!
Evo Combining – Craft the ascension materials you need from the evos in your stable.
Amazing Graphics – Experience epic battles and tactical combat with immersive 3D art!
WHAT'S NEW
• RUNES- There are 3,000+ unique Runes to customize your heroes with and increase their stats!
• Crafting an EPIC will unlock a powerful attack, either a big damage boost or a damage boost coupled with an extra effect!
• BOSS MODE- Unlock unprecedented power for your heroes. Be warned – it takes a mean strategy to beat these dungeons!
• BOSS ISLAND- Dastardly Scum inhabit this villainous side of the portal, challenging you in new dungeon battles! You can only get Epics from these dungeons.