Delight Games (Premium) 17.8 Apk + Mod for Android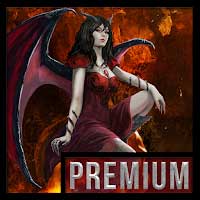 Just added: Rogue's Choice 18!
You have found a MASSIVE trove of choice-based gamebooks!
70+ Choice-based interactive volumes. All unlocked with no micro-transactions.
No ads.
You get new gamebooks regularly with updates on Premium before anywhere else.
No-wifi, no problem.
Small download and easy on your battery.
Now accessible to blind users (e.g. Talkback compatible).
For a one-time up front purchase, you get all current and future content unlocked without worry about getting gouged later. There's nothing else like it on Google Play!
If you're new to Delight Games you might say "Interactive novels? But I don't like to read." You might even say this in a whiny voice (although we hope not).
Well, even for you book haters, now reading is addictive because with Delight Games interactive novels you make the choices for the main character, alter the story, alter your stats, and try to stay alive. Can you make it to the end? If so, what kind of score and rank can you get?
Fantasy, horror, mystery, adventure, even some romance. Immerse yourself in new worlds!
If you like interactive fiction or just want to try something different from the typical soul-sucking mobile games, this is the ULTIMATE download for you!
A note about in-app purchases: There are in-app purchases; however, this is only for those of you who want extra coins for going back on choices or boosting stats. You earn lots of free coins by unlocking achievements and by visiting each day for your free coin allowance. In Premium, you do not use coins to unlock content because all content is already unlocked and new content will also be unlocked as we ship it. For those of you who have played our other games, "Coins" in Premium take the place of what we call "Luck" in some of our other games.
WHAT'S NEW
Fixed typos and added some new art.