Battle Glory 2 3.65 APK for Android
NEW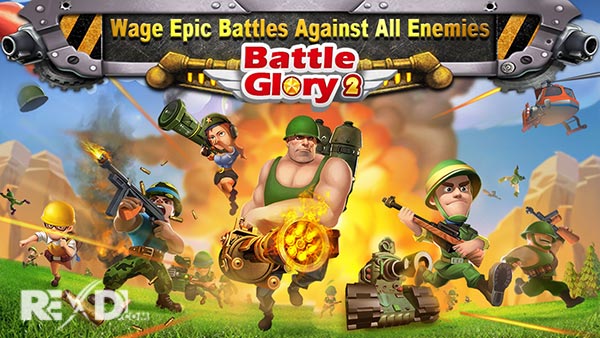 After a total of 3 million downloads of Battle Glory, finally Battle Glory 2 is here with so much more fun! Not only you can wage battles but also you can wage wars (City Invasion) against other clans in a fiercest match you have ever experienced. Players are sometimes spending 20 hours a day 2 or 3 days straight playing in the game to defeat other players and clans in the war. Epic Clash of the Alliances are guaranteed in this game. In this game you can grow from a regular soldier to the Supreme Commander of the players from all over the world. Command your highly mechanized troops with tanks, planes and other modern weapons to destroy your enemies for the ultimate Glory!
Some Features:
Create your own Cologne to battle with players
Provide a variety of weapons and various structures
Ability to fight and attack other players from around the world
In consideration of numerous awards and excellent for beginners
A chat with others online for real
Fan has beautiful graphics and interesting characters
Having a variety of different tournaments to increase the excitement
The possibility of forming an alliance to play a group of friends.
WHAT'S NEW:
This is the most exciting release of Battle Glory ever!
1.We are introducing the Title of the Governor of the BG Territor. You can only get this title by being the commander of the alliance who wins the Alliance War.
2.To win Alliance War you need to "Call for Support" from the most lethal forces introduced in this release: Naval Artillery, Napalm Bomb and Tactic Nukes.
3. troops donation increased to 10, trap is upgradable now and 4 new VIP levels with new privileges