Battery Alarm 2.3 Apk for Android – Ad-Free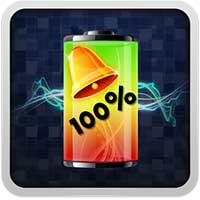 Battery Alarm 2.3
Apk for Android – Ad-Free
NOTE : KEEP APP AWAY OF APP KILLER AND RAM/CACHE CLEANER APPS.
This Battery app Protect your Phone battery from being Overcharged.
Battery charging alarm has the BEST USER FRIENDLY UI.
NOTICE: If you are using any Task Killer or Ram cleaner app then please keep this app in Ignore List. Otherwise
It will affect the performance of this App. and may be it will nor work properly.
It lets you to set alarm at particular charging level of Battery.
It will display a warning message and will continuously play the Tone until you stop it or plug or unplug the charger or exit the app.
It will show notification once charging done.
App will come up automatically once set charging done.
**Features**
0) Plug and Play App
1) Shows Current Charging Level
2) Set Alarm at Particular charging level
3) Shows Current Charging Mode (AC or USB)
4) Shows Warning message when reached to Set Alarm Level and Plays Alarm
5) Battery Charging Percentage Color according to current charging Level
6) Default Charging level for Alarm is 80%
7) Set Volume for the Alarm Tone
8) Dynamic battery level with proper colors and level in percentage
9) SET YOUR CHOICE ALARM TONE
10) Shows Battery Progress in Notification Bar
11) Set BATTERY ALARM in vibrate and SILENT mode
12) Auto launch On or Off.
13) Battery low Notification On or Off
14) Plugin sound
15) Plug Out sound
16) 3D Battery percentage text
17) Diff speech alarm languages
Advantages
No need to check your phone frequently when charing it. No need to worry about Overcharging. Battery Alarm will take care everything
Improve Battery Life.
protect battery overcharging.
set Battery Alarm at your choice battery Level.
set Your choice Alarm Tone?
Play Battery alarm in Vibrate or Silent mode
battery percentage progress bar in Notification area.
Battery Charging alarm is a very useful, small, sleek and elegant app that will help you follow the current battery percentage on your Android device, and even serve as a battery savmode
With this app anywhere every time you will know if your battery is charged enough to play a game, a movie, or to browse the Internet.
Whenever you will put your phone in charging BATTERY charging Alarm will play ALARM when battery will be charged fully or at your set battery level. It will also speak about battery percentage status. There is no app provide this feature.
There is no other battery related app with such intuitive, clean, neat and beautiful interface as BatterychargingAlarm has. The UI of this is as simple as possible, but tremendously practical and easy to use and user friendly.
We will work constantly to improve BatteryChargingAlarm app, adding in the very near future new features, like useful battery information, battery saver tips, new widgets, and boost battery life feature many more,
This app will Save and improve BATTERY life 90%.
For any query , suggestions, and feedback kindly email us on [email protected]
Why you should use BATTERY FULL ALARM app ?
Just see below calculations.
1 Hours mobile Charging consumes 0.007 Units.
Actual Required is 2 Hours for Full Charging.
but mostly We do more hours Charging.
Lets See Example
Instead of two Hours many people do whole Night Phone Charging
0.007 units * 6 Hours charging = 0.042 Units (Daily Wasted Units)
0.042 * 365 Days = 15.33 units (365 days Wasted Units)
Total active mobile Users in India : 104850000
Lest take 50% users 104850000/2 = 52425000
52425000 Users * 15.33 Units = 803675250 Units (Total Wasted Units)
1Unit minimum charge = (2Rs to 4Rs)
Lets take 3Rs charge for calculation
803675250 Units * 3Rs = 2411025750 Rs (Wasted Without Any Use)
( Note: We Considered only 50% people. )
So, Its good to Save Energy and Aware people to Save Energy.
I made the App Free to Save Energy. You Use it and Share it to Save Energy.
Battery Charging Alarm, Battery Alarm
WHAT'S NEW
New Features
——————–
New Level based Notification alerts.
New Time based Alerts.
Battery Charging History.
Actual Battery Full Alarm.
New Theme and UI.