BatchSave for Instagram 23.0 Pro Apk for Android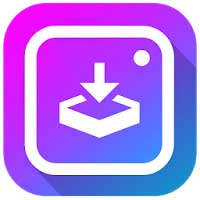 Instasave for instagram, multiple photos & video downloader&repost from instagram, Save Stories, DP saver&Enlarge dp&saver, save instagram photos and videos&multiple download instadown&insave photos.
★Top Features★
✔ Batch Save Multiple Photos and Videos.
✔ Explore album posts and save.
✔ Beautiful Stories viewer and story saver.
✔ Search posts by users and hashtags and save them.
✔ Unlimited operations for free. Save, Repost, Delete, Like, Unlike, Follow, Unfollow and more.
✔ Manage saved albums by username or date saved.
✔ Gallery to manage InstaSave photos and videos. You can also repost, share, lock and slideshow using our inbuilt features.
✔ Lock photos and videos in your phone directly from saved items.
✔ View profile of users.
✔ Download from news feed instantly.
✔ Download liked photos & videos on one click.
✔ Download bookmarked photos & videos easily from your profile.
✔ Insta dp saver (full HD)
✔ Inbuilt media player & Image viewer.
✔ Quick access to all your downloads.
✔ Repost without watermark.
✔ Share it on other social apps easily.
Video downloader for instagram allows user to save videos from instatgram and photos as well. Instasave pro you can select multiple pictures and download at once. Instasaver gives you permission to save your uploaded photos and videos also you can save your liked pictures and videos. Browse instagram and see your liked pictures.
The multiple saver for Instagram is back! Be quick!
DOWNLOAD NOW!
It's FREE!
☛ What's more?
InstaSave profile picture of any cute girl or handsome man in HD. Also you can Zoom it 500% bigger than original size to view more detail.
Save multiple posts album on one click. Explore album, save album, Repost from album posts, Save carousel data and more. Best Instasave for instagram app to save instanlty and beautiful designed app for all users. Flat design makes it easy to use and more light to it's size.
Story saver you can use for view story pictures and videos and save to your phone with share, repost, lock and more options. Save stories before they disappear in 24 hours.
You can also save your bookmarks from this Instasave app. Save your bookmarked Pictures and videos easily.
Repost for instagram has never been this easy for users to get more likes and followers. Repost any photo or video in single click and get popular in public by awesome posts you saved with instasaver.
Hold down stories to pause story progress and see in full screen, Swipe down or up to exit from stories with animation. Click on user to view user details and its profile info. Click on download button to save stories in your gallery.
Swipe left or right to view multiple posts from album explorer and click on respot to quick repost with caption or click on save button to save in your gallery or you can like,unlike post and you can share it in social networking sites directly from post details. Get followers and likes has never been easy by posting quicky from public in android free app.
We know you have try a lot of things to have some public photos on your device and share with your friends you have try it many Instagram Downloader, Insta Downloader, Insta Photo Saver, Easy Downloader, Insave etc. but we present you with really best app with advanced features.
If you are looking for some quick and easy way to save insta photos and videos than this Insta video downloader app is all you need. It's an Amazing instadown app for daily use because it never crashes and takes very little space.
**Disclaimer: Batch Save app is by no means affiliated to Instagram™. Please get the PERMISSION from the owner before you save or repost videos or photos. This Insta downloader app uses the Instagram public API and depends on the Instagram servers. It uses the OAuth 2.0 protocol to authenticate the user.
Please support this instant saver app with your positive Ratings and Reviews.
Thank You.
Contact us for any help, complaint or suggestion,
[email protected]
WHAT'S NEW
~ More Quick, More Easy & More BatchSave.
Thank you for suggestions and support. If you have any issue or suggestions regarding our BatchSave app then you can write to us at our developer mail id. Thank you.