Aurora Quarantine 2 Full Apk Data Android
Current Version: 2

File size: 23 MB + 442 MB

Memorize:

www.ReXdl.com
Aurora Quarantine 2
Full
Apk Data Android
Offline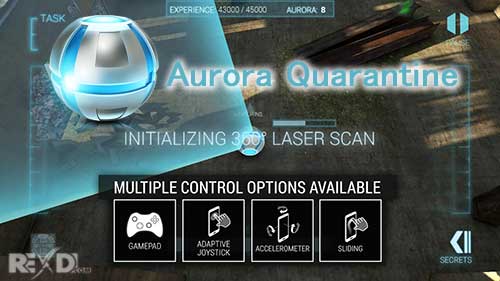 Download last version Aurora Quarantine Apk Android An unconventional game, that tests the skill and cleverness of a player, while merging the balance ball genre with an adventure game and an intriguing detective story, taking place in a realistic environment.
Challenge yourselves while avoiding a variety of realistic traps, searching for secrets, earning a high score and upgrading your robotic ball. Can you overcome all challenges and complete your mission while saving the city?
Story:
The year is 2098. For a long time, humans have been polluting Earth ,destroying air, water, soil, even one each other. In order to stop it, one day, authorities introduced new ecological cities. But the new homes were available only for wealthy families. Eventually, a gap between the rich and poor was enormous. Cities were guarded by a security institution The S.I.G.H.T.. They built walls around them and applied strict rules inside.
One of the new towns, Silverpolis, has become the target of a rebel group called The Association. Their members have infiltrated into Aaronsohn Laboratory, stole the toxic substance and modified it into a weapon of mass destruction. They placed it inside the city to wipe out all inhabitants. When the bomb exploded, in a few minutes every citizen was dead. The aftermath of the disaster was larger than anyone had anticipated. The toxic nanoparticles have remained in Silverpolis and kill every life form entering the city.
In an attempt to save Silverpolis, the S.I.G.H.T. developed robots to explore the city and enter places that humans cannot. Your mission is to find a substance that will neutralize the toxic environment and bring the city back to life. You will find the substance where the toxic nanoparticles have been developed, in Aaronsohn Lab. The only way to get in, is through the old solar power plant. You'll find supplies on your way, but the city is now in lockdown, all the security measures have been automatically launched and will hinder your progress.
Controls:
1. GamePad Support
2. Adaptive Joystick
3. Accelerometer
4. Sliding
WHAT'S NEW
Completly reworked lighting system
• Decreased RAM consumption
• Graphic enhancements
• Support for older devices
• Better performance (more FPS)
• Optimized physics
• Reduced energy drain
• Compatible with all screens sizes
• Better multitasking support
• Improved video playback and many more bug fixes.
*We are constantly working on creating bonus levels which will come very soon so stay tuned for more updates*