Zombie Castaways 2.12 Apk Mod Money Android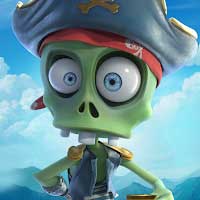 Online

&

Offline
70 million players around the world play the game in 15 languages.
A friendly zombie falls in love with a girl and sets off in search for Zombium to become a Human.
The world of zombies is vast, bright, and full of funny characters. Explore magnificent islands and make your way through the thickets to take a step closer to solving the Zombie's secret. Grow unusual plants, fruits, and flowers to cook Zombium. Construct world famous buildings, complete tasks, and decorate your island to become a Human and find your Love.
In the game you'll find various zombie-workers helping you clear the island and build a town, such as woodcutters, stoneminers, fishermen, treasure hunters and cooks. You'll be able to harvest dozens of unique plants and make terrific potions. You can travel to different islands in search of new treasures in order to reach the Ancestors' Land, become a Human, and then return to the city of people and find your Love.
WHAT'S NEW
Halloween at Zombies'!
– Attend the Ghost Fair with Zombie and his cousin and solve the mystery of the Island!
– Catch restless ghosts and bats to get a reward!
– Open Pumpkin Barrels and get Iron Pumpkins! Open the game on the Halloween eve to exchange Iron Pumpkins for the Mummy Costume and spooktacular decorations!
– Long-expected WARDROBE! Hurry up and buy outfits for Zombie! The offer is limited!