Transformers Earth Wars 1.59.0.20608 Apk + Mod for Android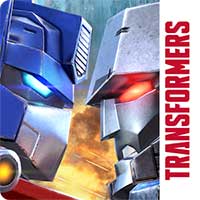 Current Version: 1.59.0.20608

File size: 92 MB

Memorize:

www.ReXdl.com
Online
THE TRANSFORMERS ARE BACK ON EARTH!
In this digital version of the classic battle of Good vs Evil, Autobots vs Decepticons, commanders around the world must choose a side, assemble the ultimate team of Transformers characters and prepare their defenses in the final fight for planet Earth in Transformers: Earth Wars!
Whose side are you on? Earth's fate is in your hands!
ASSEMBLE THE ULTIMATE TEAM OF TRANSFORMERS CHARACTERS
● Create the ultimate team of Transformers characters by choosing from over 40 legendary bots including Optimus Prime, Megatron, Grimlock, and Starscream!
● Use the Space Bridge to summon extra reinforcements from Cybertron!
USE ABILITIES
● Change form to turn the tide of battle; deploy Starscream's Airstrike, ram defenses with Optimus Prime or repair your team with Ratchet's healing ability!
BUILD A MIGHTY FORTRESS
● Construct an impenetrable fortress using advanced Cybertronian technology!
● Build up your resource stockpiles and construct powerful defences!
JOIN ALLIANCES
● Autobots alliances defend against Decepticon attacks in global competitions and weekly events!
● Co-ordinate your Decepticon alliance to rain devastating strikes upon Autobot bases!
FIGHT FOR THE FUTURE OF EARTH
● Stunning 3D graphics and animations bring the characters to life in the app; check them out in the showroom!
● Global chat and alliance features make it a multiplayer experience worth fighting for!
● Choose your side, the battle is in your hands!
Roll Out!
Please note that Transformers: Earth Wars is free to download and play, however, some game items can also be purchased for real money. If you don't want to use this feature, please disable in-app purchases. Wi-Fi or cellular connection is required to play.
______________________________
Transformers: Earth Wars is brought to you by Backflip Studios, Space Ape Games, and Hasbro, Inc. Search the Play Store for "Backflip Studios" to see all of the other Backflip games.
TRANSFORMERS and all related characters are trademarks of Hasbro and are used with permission. © 2015 Hasbro. All Rights Reserved.
Thanks for playing!
WHAT'S NEW
VICTORION is more than the sum of her parts. Made up of the disciplined and zealous RUST RENEGADES, her skill on the battlefield is tempered by a dedication to justice and peace.
MENASOR less a combiner and more a force of nature. The STUNTICONS who make up his component parts have a severe distrust of each other, making him highly mentally unstable but a raging monster when unleashed on the battlefield
COMING SOON:Collections!
View all your teams and compare your collections to other players!