Rolling Sky 1.5.4 Apk + Mod Balls , Shield for Android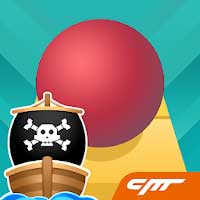 Offline
Rolling Sky is a game that pushes the boundaries of your speed and reaction. The splendid 3D effect scene enables you to experience the imaginary traps and barriers. Now, let's control the ball and conquer the world by overcoming challenges.
How to play?
Drag the ball left or right to avoid all obstacles and try not to fall off the track! Challenge your speed with the rhythm of the music and try your best to win each round!
Features:
• One-touch control with simple operations
• Stunning 3D worlds and effects
• Rich scenes (including Massif, Cosmos, Forest, Snowfield, Inferno and lots more!)
• A challenge to test your ultimate speed and fast reflexes!
Follow and contact us:
It's always pleasant to receive your valuable suggestions.We invite you to suggest game improvements, bugs or general feedback! Contact us!
rollingskyfeedback@conew.com
Business Cooperation:
Cheetah Mobile is now sincerely inviting all the amazing mobile game developers globally to achieve mutual success! we are looking forward to the great games!
Contact us on: publishing_cmplay@cmcm.com
Privacy Policy :
http://www.cmcm.com/protocol/site/privacy.html
WHAT'S NEW
Latest Updates:
– New Character: RS-001, upgraded from ball, with a 30% chance of automatically getting Shield. You can also enable Shield before game just in case.
Recent Updates:
– Bonus Level: JOKER, go find it in the level list and get more crowns!