Bee Brilliant 1.36.1 Apk + Mod for Android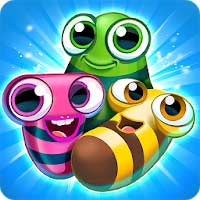 Bee Brilliant 1.36.1 
Apk + Mod for Android
Valentines
Free direct download last version Bee Brilliant from RexDl. Explore the world of Beeland and meet the singing Babees, the crazy Busy Bees and the cheeky spiders in this buzzing FREE puzzle game. Get ready to connect colourful lines of Babees, make awesome combos and have some buzzing fun! Release your inner puzzle bee and join the beedazzling adventure TODAY!
FEATURES:
Easy, addictive puzzle gameplay! Match and connect one colourful line of bees after another to unleash combos!
Play your way through Beeland in 6 different game modes and hundreds of addictive levels!
Challenge your friends! Can you Bee Brilliant enough to top their high scores?
Lots of crazy bees! Meet Ms. Honey, Sgt. Sting, Beecasso and others! And, of course, the singing Babees will not miss a chance to break into a tune of buzzing barber shop disco!
Loads of different game modes: Pop the cheeky spiders' web, collect honey pots and much, much more!
Not to forget: A lifetime's supply of bee puns!
We are always working hard to update the game and satisfy your puzzle needs! Already played and enjoyed the game? Stay tuned for updates and do drop us a review! Also, check out these sources for all the latest news:
Facebook: facebook.com/BeeBrilliantGame
Twitter: twitter.com/TactileEnt
See you in Beeland! THANK YOU!
WHAT'S NEW
Grab your lucky hat and get ready for a trip to the most buzzing city of them all! Welcome to Vegas!
• Buzz down the Beeland Strip and try your luck in one of the NEW LEVELS!
• Buy a ticket for the hottest show in town featuring The Bee Pack with their brand NEW SONG!
• Out of boosters? Join the Vegas Challenge and earn some more!
Like the game? Please leave a review!
Check out www.facebook.com/beebrilliantgame for help and support!
Mod:
Unlimited Coins
Unlimited Game Lives
Unlimited Bronze Tournament Tickets
Unlimited Silver Tournament Tickets
Unlimited Gold Tournament Tickets
Unlimited Tournament Lives
Unlimited Boosters
Time bomb: Instead Of 200 Points You Get 1000 Points
Power Bee: Instead Of 500 Points You Get 1000 Points
VIP Unlocked