Battle Skylands 1.1.77 Apk Strategy Game for Android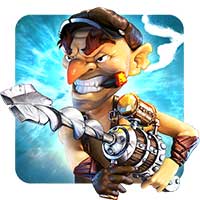 Online
Fight against other leaders in the magical scenery of Battle Skylands, raising strong fortress that defend your citizens and forging mighty army of little heroes! Plan attacks, steer your troops, conquer isles and expansions!
✩ GROW breathtaking village from variety of resources like iron, stone, wood or antigrav-crystals
✩ Steal great islands, important resources and villagers from enemy during crucial RAIDS
✩ DISCOVER secret knowledge and choose right tactics to BATTLE with players worldwide
✩ Train deadly forces: wild Amazon, tough Cholita, crazy Bomber, just Fighter and other kinds of troops
✩ Let settlers pray for miracles and call for them at battlefield
✩ Give orders with your finger and group army into divisions to beat the most strong defenses
✩ Establish ALLIANCE with your mates to get support (coming soon!)
✩ It's good strategy to be furiously BAAD while invading and looting your enemies!
Network connection is required!
SUPPORT
If you have any feedback, problem or idea please check out official site or write to us: bs@baadgames.com
FOLLOW US
On Facebook: https://www.facebook.com/BattleSkylands
…or Twitter: https://twitter.com/BattleSkylands
WHAT'S NEW
Bug fixes.
See you in Skylands!