Basketball Battle 2.1.1 Apk + Mod Money for Android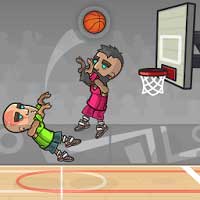 Offline
★ Big shot blocks and dunks!
★ 2 player!
★ Easy moving and shooting!
★ Use pump fakes!
★ Score layups!
★ Shoot fade aways!
★ Get steals!
★ Juke and cross over to get to the basket!
★ Win big games and upgrade your team!
Challenge your friends in 2 player split screen mode!
Basketball Battle is a real arcade style hoops game that lets you play ball all over the USA!
WHAT'S NEW
Greatly increased challenge and added new abilities: Tap forward when you're not dribbling to perform a jabstep and meet your opponent at the rim to block dunks!