Archery World Champion 3D 1.4.11 Full Apk Mod Android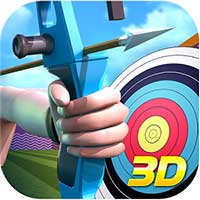 Offline
Olympic festival equipment 30% discount
Popular Olympic sport of archery.
Everyone can play. Just aim and shoot.
Free archery game you can play with people from around the world.
Precise control and realistic graphics will make you feel like you are playing a real game.
A variety of tools are available. Create your own archery equipment.
Play a game with the world archery champion and be the best.
300 rounds of sinlge game
180 rounds of dual game
300 round of hunting
'Game with friends' mode
CLOUD SAVE
6 languages supported (English, Korean, German, French, Portuguese and Russian,Indonesia)
If you are a fan of a archer and archery game, you can't miss the world champion 3D archery game.
WHAT'S NEW
v 1.4.11
– New season added (single 2 season, duel 3 season, hunting 3 season)
– Arrow animation on/off toggle option added
v 1.4.7
Remove lag in Elite game
v 1.4.4
Add new game mode : Elite game
Add new Leaderboard: Elite Games Daily High Scores, Elite Games Cumulative Scores.
v 1.4.3
-bug fix
v 1.4.2
-bug fix
v 1.4.1
– Fixed: During the game stop bug
– Attendance reward increased to 2 times
– Add a Language: Spanish
v 1.4.0
-bug fix